Man accused of killing LAPD officer 40 years ago goes on trial again
Prosecutors told the 12-member jury that Kenneth Earl Gay, now 65, shot LAPD motor officer Paul Verna five times as he lay on the ground the day of his killing
---
By Josh Cain
The Whittier Daily News, Calif.
LOS ANGELES — A man accused of killing a Los Angeles Police Department officer in a brazen, midday Lake View Terrace shooting 40 years ago is on trial once again, with prosecutors alleging an accomplice handed him the gun he used to shoot the officer to death, while his defense lawyer argued the accomplice was the only shooter.
Prosecutors told the 12-member jury in a San Fernando courtroom on Tuesday, June 6 that Kenneth Earl Gay, now 65, shot LAPD motor officer Paul Verna five times as he lay on the ground the day of his killing.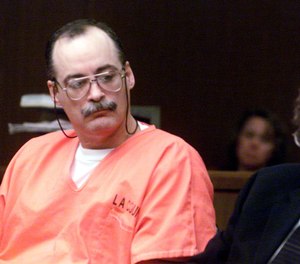 They said Gay took a handgun from Raynard Cummings, 64, of Pacoima, his alleged partner in a string of robberies in the area, after Cummings shot Verna once from inside their car.
L.A. County Deputy District Attorney David Ayvazian described Gay and Cummings as "desperate, violent men" who were on parole at the time of the killing and who feared Verna would discover they were riding in a stolen car tied to their crime spree.
He said they killed Verna because he "was a threat to their freedom."
Public Defender Monnica Thelen called the theory that Cummings passed Gay the gun "absolutely ridiculous," arguing there was no time for the handoff to occur based on witness descriptions of the shooting.
"The evidence will show that Raynard, having shot Verna once, would have continued to fire that gun no matter what," Thelen said.
Gay has spent decades behind bars for the killing of Verna on June 2, 1983 on Hoyt Street in the middle of a Lake View Terrace neighborhood. Raynard remains on death row in San Quentin State Prison.
See also: Death Row inmate Raynard Cummings from Pacoima has one regret
Police and prosecutors have long accused Gay and Cummings of committing dozens of robberies in the weeks before killing Verna during a traffic stop. Both were sentenced to death following a 1985 trial.
But in 2020, the California Supreme Court vacated Gay's original conviction for Verna's murder, arguing his attorney at time, Daye Shinn, bungled the case, failing to present evidence to the jury that might have convinced the panel he was innocent. The court also found Shinn lied to Gay in order to secure the case. Shinn was disbarred in 1992 and died in 2006.
Gay's death penalty was overturned twice — in 1998 and again in 2008. The first ruling vacated the death penalty due to Shinn's mismanagement of the case; the second ruling found a judge erred in disallowing Gay to present evidence that could have led a jury to determine he was not death penalty-eligible.
Following the 2020 ruling, former L.A. County District Attorney Jackie Lacey, with just days left in her final term, decided to retry Gay's case.
George Gascón, the current D.A. who defeated Lacey, took over the case but declined to pursue the death penalty.
On Tuesday, Verna's family, including his two sons Bryce and Ryan, themselves current and former LAPD officers, respectively, watched once again from the gallery as Gay was tried for his murder.
See also: Family of slain LAPD officer in limbo as killer languishes on death row 30 years
Gay, with a clean-shaven head, a graying goatee and thick, black glasses, was brought into the courtroom in a wheelchair.
Gay, who has maintained his innocence for decades, watched silently as prosecutors showed the jury photos of him and Cummings taken more than 40 years ago.
In their opening statements, prosecutors and the defense squared off over contradictory witness statements about what happened the day of the killing.
The 12100 block of Hoyt Street was busy that afternoon; school was out for the summer and the neighborhood was packed with children playing.
There were at least 10 witnesses to the actual shooting of Verna or the immediate aftermath.
Verna got off his motorcycle and walked up to a two-door car. Inside was Gay in the passenger seat and his wife Robin sitting in the back with Cummings. Driving was Cumming's then-wife, now Pamela Smith.
Verna ordered Smith out of the car, instructing her to stand on the curb. Much of what happened next is in dispute.
Prosecutors say Verna leaned into one of the car's windows — that's when Cummings shot him once.
Reeling backward, Verna fell to the ground. Ayvazian said Tuesday it was Gay who then got out of the car, armed with the same gun Cummings had just fired, and shot Verna five more times, killing him.
Ayvazian said multiple witnesses identified the shooter as a man with curly hair and a thick mustache with light skin. He said that description matched what Gay, who is biracial, looked like at the time.
He said police tracked Gay and Cummings down days later in San Diego County in the same car Verna pulled over during the stop, but with different license plates. They found Cummings laying down in the back seat and Gay laying on the back floor. They found Verna's gun, which had been taken from him after the shooting, underneath Gay.
Ayvazian said Gay had shaved his mustache in between the shooting and his discovery in San Diego.
Thelen, the public defender, said many of the witnesses prosecutors brought forward to testify back in 1985 were unreliable — she said two women who claimed to have seen Gay shoot Verna from their window could not possibly have seen the entire shooting.
She said several witnesses who identified Gay as the shooter said he was wearing a burgundy tracksuit at the time. But Gay was wearing a white shirt during the shooting — Cummings wore the burgundy outfit, Thelen said.
The trial of Gay will continue this week after a pause on Wednesday.
___
(c)2023 The Whittier Daily News, Calif.
Visit The Whittier Daily News, Calif. at https://www.whittierdailynews.com/
Distributed by Tribune Content Agency, LLC.
McClatchy-Tribune News Service