NY bill that would have let police sue protesters is vetoed
Nassau County Executive Laura Curran said it came down first amendment freedoms
---
By Suzie Ziegler 
NASSAU COUNTY, N.Y. — A bill out of Long Island that would have let police sue protesters was vetoed Tuesday, according to 12 News. The bill would have made police officers "a protected class of first responders," allowing cops to seek financial damages from protesters. 
The measure sparked controversy, with some activist groups saying the bill aimed to stifle legal protest, reported CBS New York.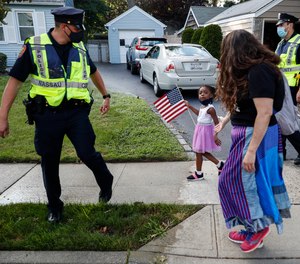 Nassau County Executive Laura Curran, who vetoed the bill, says her decision comes from wanting to ensure constitutionality. 
"I continue to stand firmly with the brave men and women of law enforcement, and against any efforts to 'defund the police,'" Curran said in a statement obtained by 12 News. "The guidance provided by the New York State Attorney General raises issues about the constitutionality of the proposed law, which would inhibit residents' rights to free speech and protest. The proposed bill is well-intentioned but should not come at the costs of the basic First Amendment freedoms." 
Legislator Josh Lafazon, who sponsored the bill, said he would not try to override the veto. 
"The intent of this bill was always to protect those first responders who protect us here in Nassau," Lafazon said in a statement to 12 News. "I respect the county executive's decision to veto this bill based on the AG's guidance and will not vote to override County Executive Curran. Over the past week, I've had the opportunity to speak with community leaders regarding their concerns over the bill. My hope is to now continue conversations with the community and our first responders to ensure Nassau remains both a safe and a fair county for us all."