SCOTUS sides with officer in Ariz. shooting
The court said officers are entitled to immunity unless a previous case tells them a specific UOF is unlawful
---
By Police1 Staff
WASHINGTON — The Supreme Court ruled that an Arizona officer who shot a knife-wielding woman four times was immune from being sued for excessive force.
The court dismissed a lawsuit Monday filed by Amy Hughes, who was armed with a knife when she was shot in her front yard, the Los Angeles Times reports. In May 2010, officers were called to a home in Tucson, Arizona after a report that a woman was hacking a tree with a knife, according to the Associated Press.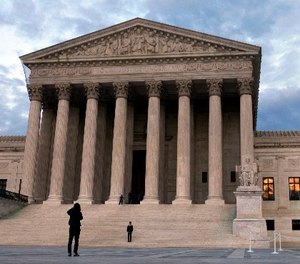 When police arrived, officers saw Hughes holding a kitchen knife and told her to drop it at least twice. After Hughes didn't comply, Officer Andrew Kisela shot her four times, hitting her in the stomach, hip, arm and knee. 
Hughes survived the shooting and later filed a lawsuit, arguing that Kisela used excessive force. A trial court initially ruled that the officer used reasonable force, but the 9th U.S. Circuit Court of Appeals reversed the decision in 2016.
On Monday, the Supreme Court said excessive force is an area of the law where the results rely heavily on specific facts of each case. The court said officers are entitled to immunity unless a previous case clearly tells them a specific UOF is unlawful.
The Supreme Court noted that Kisela said he shot Hughes because he believed she was a threat to her roommate, who was standing near her. The court also noted that Kisela was separated from the two by a chain-link fence and that Hughes ignored orders to drop the knife.
In a dissenting opinion, Justice Sonia Sotomayor wrote that the court's decision "sends an alarming signal to law enforcement officers and the public."
"It tells officers that they can shoot first and think later, and it tells the public that palpably unreasonable conduct will go unpunished," Sotomayor wrote.