Gunman 'essentially executed' Calif. police officer on duty, investigators say
Officer Gonzalo Carrasco Jr., 23, was fatally shot by a convicted felon who is a member of a Fresno-based gang
---
By Thaddeus Miller
The Fresno Bee
FRESNO, Calif. — Authorities on Friday described the killing of a Selma police officer as happening before the officer had a chance to react, and said he was "essentially executed."
Officer Gonzalo Carrasco Jr. was killed Tuesday while approaching a man, according to Fresno County Sheriff John Zanoni. Carrasco, a 23-year-old native of Reedley, had been an officer since May 2021 and had a baby on the way.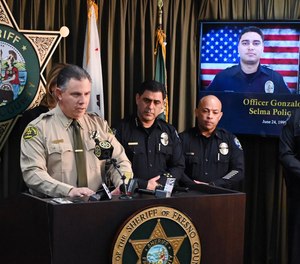 Carrasco was on a routine patrol in a police car about 11:52 a.m. Tuesday in a residential Selma neighborhood west of Highway 99, Zanoni said.
As Carrasco approached a man — whom police have said was 24-year-old Nathaniel Dixon, a felon on probation — the officer and the man spoke briefly, Zanoni said.
Carrasco turned his car around and as he passed the man again, a homeowner told the officer that Dixon did not belong on the property.
"(Dixon) was trying to go into that yard like he lived at that house," Zanoni said. "Once Carrasco got out of his vehicle, I believe that's when Dixon realized 'he got me.'"
The officer got out of his cruiser and approached Dixon before the man shot the officer multiple times with a .223 caliber ghost gun — an illegally obtained gun that is purchased in parts before it is assembled, Zanoni said.
"We believe we put together a very good case against the suspect, Nathaniel Dixon, regarding the senseless shooting and killing," he said.
Dixon appeared in court Friday as he faces charges including first-degree murder, but did not enter a plea before the arraignment was continued to a future date.
Carrasco did not fire his weapon and investigators would not say Friday whether he was able to draw his weapon before he was shot. The officer was wearing protective equipment, Zanoni said.
Dixon was a member of a Fresno-based gang and had a tattoo on his face that resembles a Fresno State Bulldog logo, but Zanoni stopped short of naming the gang.
"This individual was a convicted felon. He had no right to have that gun; he should have never had that gun," he said.
Selma police Chief Rudy Alcaraz said the shooting happened so quickly that there wasn't a way to prevent the killing in the moment.
"We all agree there was nothing officer Carrasco could have done. He was essentially executed," he said.
The killing of the officer has sparked a verbal duel between California Gov. Gavin Newsom and Fresno County District Attorney Lisa Smittcamp over Dixon's status on Assembly Bill 109 parole, which is commonly called AB 109 or prison realignment.
Smittcamp has said AB 109, which Newsom and Democrats in the legislature have supported, allowed Dixon to be let out earlier than sentenced. Newsom said Smittcamp failed to use her prosecution power to charge Dixon with more of his earlier crimes.
Carrasco was a 2016 graduate of Reedley High, and authorities said Friday his dream was to be a police officer. His parents are farmworkers.
The Selma community has responded with grief over the death of Carrasco, holding multiple candlelight and prayer vigils.
©2023 The Fresno Bee.
Visit fresnobee.com.
Distributed by Tribune Content Agency, LLC.
McClatchy-Tribune News Service