Man who helped officer subdue cop killer is among 23 Carnegie heroes
Civilian helped a New York officer subdue a gunman who had already fatally shot another officer
---
Associated Press
PITTSBURGH — A civilian who helped a New York police officer subdue a gunman who had already fatally shot another officer is one of 23 people being honored with Carnegie medals for heroism announced Thursday.
M. Neil Jones Sr., 60, was a valet supervisor who worked at Southern Tier Imaging, a radiology lab in Johnson City, when the shooting occurred March 31, 2014.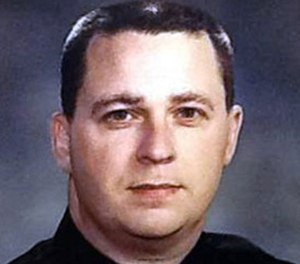 Two officers responded when a mentally disturbed employee created a scene. The worker grabbed the gun of Officer Dave Smith and fatally shot him in the head as Smith emerged from his patrol car, then engaged in a gunbattle with Smith's partner, Officer Louis Cioci.
Cioci wounded the suspect, then tried to subdue him. As that happened, the man grabbed for Cioci's gun and the officer called for help, with Jones pulling the suspect off Cioci until he could be handcuffed. Jones suffered a heart attack shortly afterward but recovered, and the shooting suspect died of his gunshot wounds.
Cioci was one of 13 U.S. police officers awarded the nation's Medal of Valor last month by President Barack Obama for risking their lives to save others.
The Carnegie Hero medals are named for Pittsburgh steel magnate and philanthropist Andrew Carnegie, who was inspired by stories of heroism during a coal mine disaster that killed 181 people, including a miner and an engineer who died trying to rescue others.
The Pittsburgh-based Carnegie Hero Fund Commission investigates stories of heroism and awards medals and cash several times a year. It has given away $38.2 million to 9,868 awardees or their families since 1904.
The other awardees being honored Thursday are:
— Keith A. Wilt, 49, of Frederick, Maryland, and Matthew J. Geppi, 25, of Baltimore, Maryland, who saved two toddlers trapped in their family's burning Baltimore row house in January 2015.
— Kenneth Arnold Hansen, 46, of Crystal, Michigan, who saved an 8-year-old boy who was being attacked by four Rottweilers in a yard in Riverdale, Michigan, in May 2015.
— Raymond L. Robinson, 45, and Christopher Z. Smith, 59, both of Chicago, who saved two police officers after a shoplifter stole one officer's gun as they were trying to arrest him in February 2015.
— Andrew Baugh, 28, of Mason City, Illinois, who saved a 14-year-old boy from a burning midget-chassis race car at a Lincoln, Illinois, speedway in June 2015.
— Ronaldo R. Romo Jr., 32, of St. Louis, who saved a man and his son from burning in a crashed vehicle in Shrewsbury, Missouri, in April 2015.
— Michael H. Peddicord, 45, and Donald E. Lee Sr., 60, both of Denton, Maryland, who saved an 87-year-old woman from a propane explosion and fire in her home in October 2014.
— Calindo C. Fletcher Jr., 20, of Huntsville, Alabama, who drowned trying to save another man from drowning after his kayak overturned in Athens, Alabama, in July 2015.
— William James Griep Jr., 54, of St. Francis, Minnesota, and Benjamin McAuliffe, 31, of Apex, North Carolina, who saved an 80-year-old woman from burning in her Oak Grove, Minnesota, home in September 2015.
— Ashley Marie Aldridge, 19, of Auburn, Illinois, who saved a 75-year-old man from being hit by a train when his motorized wheelchair got stuck on a train rail in September 2015.
— Turner Lagpacan, 23, of Wichita, Kansas, and Jason C. Newby, of Eaton, Colorado, who tried to rescue the driver of a tractor-trailer that crashed and burned in Mulhall, Oklahoma, in April 2015.
— Derrick M. Johnson, 51, of Circle Pines, Minnesota, who rescued a 78-year-old man being attacked by a pit bull in St. Louis Park, Minnesota, in July 2015.
— Kaiden J. Porter-Foy, 16, of Lake Stevens, Washington, who rescued a woman from her burning mobile home in August 2015.
— Jacob Scott Jones, 35, of St. Helens, Oregon, who disarmed a gunman who wounded a neighbor and threatened others with a gun in March 2015.
— Charles G. Gluckleder, 56, of Steger, Illinois, who rescued an 88-year-old man and his 64-year-old son from their burning home in Chicago Heights, Illinois, in October 2015.
— Christopher Canale, 33, of Farmingville, New York, who rescued a bus driver and his 70-year-old passenger after the vehicle crashed and burned in Manorville, New York, in October 2015.
— Christopher T. DePaoli, 53, of Irvington, New York, who rescued a woman after she was stabbed on a commuter train platform in April 2015.
— Kelly Winters, 47, of Chapin, South Carolina, who rescued a man from a burning gasoline tanker that had crashed in Columbia, South Carolina, in May 2015.
Copyright 2016 The Associated Press