New Orleans police chief credits more cops on the streets for drops in murders, shootings
In the last two weeks, five people have been murdered, compared to 12 during the same time period in 2021
---
By Missy Wilkinson
The Times-Picayune | The New Orleans Advocate
NEW ORLEANS — Violent crime in New Orleans has slowed over the last two weeks, and NOPD Superintendent Shaun Ferguson said Tuesday he's convinced that is due to increased police presence on the streets.
In the last two weeks, five people have been murdered, compared to 12 during the same time period in 2021. Another seven have been wounded in shootings, compared to 10 during that period in 2021.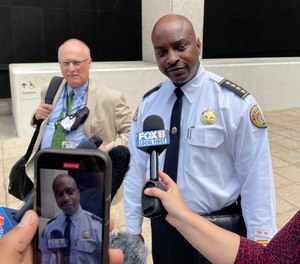 "We're now actively out on patrol and responding. ... That response, that visibility, it's all playing a role in discouraging individuals from committing criminal activity," Ferguson said at a Tuesday press briefing.
On Sept. 25, the department began redeploying 75 uniformed officers across districts and divisions to the streets, in an attempt to reign in a violent crime surge that has placed New Orleans' per capita homicide rate among the top in the nation and led to an outcry from residents and business leaders left traumatized by the bloodshed.
The redeployment strategy, as well as efforts underway to supplement a hemorrhaging police force with 50 civilian workers, were among several recommendations outlined in a plan by consultants and former NYPD commanders Fausto Pichardo and Thomas Conforti. The consultants, however, suggested that the NOPD redeploy 212 officers. Ferguson settled on 75.
Now, officers who might otherwise be behind desks—including those in administrative, investigative, traffic, K-9 and other reserve units—are taking on occasional uniformed patrol shifts.
"I hope I'm not jinxing us," Ferguson said. "We're moving in what we believe is the right direction."
All told, 209 people have been murdered in the city so far this year, compared to 164 murders during the same stretch in 2021, according to the NOPD. Just 73 of those murder cases have resulted in arrests.
During the press conference, Ferguson also addressed a recent rash of auto burglaries this weekend, including a cluster of more than 20 break-ins in the 700 block of Baronne Street. He said supplemental police officers were deployed downtown during the Saints game at the Caesars Superdome this weekend.
While patrolling numerous parking lots near the game, police saw a white Chevy Silverado they suspect was involved in the burglaries driving recklessly to evade them. In keeping with the mandates of the NOPD's federal consent decree, which requires supervisors to authorize pursuits only if they involve violent crime suspects, police did not chase the vehicle.
"We believe the same crew is responsible for these incidents, and we are actively investigating," Ferguson said.
Anyone with information about the burglaries may call police at (504) 658-6080.
(c)2022 The Times-Picayune | The New Orleans Advocate Visit The Times-Picayune | The New Orleans Advocate at www.nola.com Distributed by Tribune Content Agency, LLC.
NEXT: New Orleans 911 dispatch system updated after issues with call prioritization
McClatchy-Tribune News Service