Liquor bottle was key clue in finding escaped inmates
End of three week manhunt for Richard W. Matt and David Sweat is linked back to a spilled bottle of gin
---
By Brendan J. Lyons
Times Union
MALONE, N.Y. — It was the break that searchers needed in their hunt for two escaped killers.
A pair of off-duty state prison workers were checking a hunting cabin off Route 30 in the town of Malone, Franklin County, looking for anything out of the ordinary. The men, both hunters, were on edge like many of their neighbors following the killers' June 6 escape from the maximum security Clinton Correctional Facility in Dannemora.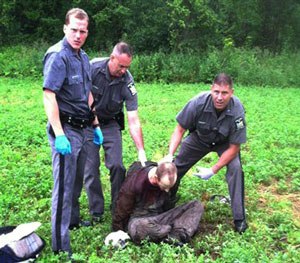 Robert Willett Jr., a correction officer, had a rifle strapped to his back. Leland Paul Marlow Jr., 48, a registered nurse at Upstate Correctional Facility, was clutching a loaded Glock pistol. It was just after noon on Friday, June 26, when they walked into Willett's Humbug Mountain Hunting Club cabin, about 30 miles west of the Dannemora prison where the escape took place.
Willett called his friend to help him check the cabin after finding something out of place.
The men didn't know at the time they were about to play a key role in ending the three-week manhunt that had gripped the Adirondack region with fear, and their actions would put one of them in line to collect a substantial reward.
An open bottle of Seagram's grape gin was on the Formica counter of the rustic cabin — a scruffy hunter's respite with a red-felt pool table, logs piled next to a wood stove, a bare-bones kitchen and decorations that include deer antlers nailed to plywood walls.
Some of the gin from the half-empty bottle soaked the countertop.
"It reeked," Marlow said. He took a picture of the bottle.
Nothing else appeared out of place and it wasn't apparent if someone had slept in one of the cabin's six beds.
"The beds aren't really made very good," Marlow said in an interview with the Times Union.
But the gin bottle drew their suspicion. A day or two earlier a liquor flask had been reported stolen from another cabin in that region. Willett stayed at the cabin and dialed a hotline set up by the state for tips in the search for the escapees, Richard W. Matt and David Sweat. Marlow, concerned that the hotline center wouldn't treat their information with urgency, jumped in his pickup truck and drove up Route 30 toward the village of Malone.
When his cellphone picked up a signal, he reached his friend, Jason J. Pelkey, a State Police investigator, and told him what they found.
Pelkey happened to be working at the manhunt command post the State Police set up at Titus Mountain Family Ski Center, about 10 miles northeast of the hunting camp.
"We talked for about three minutes and he told me to wait by the road for a trooper to show up," Marlow said in a sworn statement he gave to State Police later that day. "While waiting I heard a gunshot that sounded close and to my south. I called Bob at the camp and he said he heard it too. I called 911 to report it."
Marlow jumped back in his truck and drove south on Route 30 toward Marvin Raville's house, which overlooks Route 30 near where the shot rang out. He called Pelkey back and gave him the address of Raville's mailbox.
As Marlow waited, two plainclothes State Police investigators drove up, both with rifles strapped to their torsos. Marlow said another gunshot rang out as two trucks drove past them on Route 30, one pulling a camper.
The camper, police would later learn, had been shot at by Matt, who was hiding in the woods and armed with a 20-gauge shotgun. When the trucks pulled over just down the highway, Marlow said he and the investigators debated whether the blast may have been a blown tire.
Just then, a third gunshot sounded through the woods a couple hundred yards north of where they were standing. The troopers jumped in their car and raced toward the Humbug Hunting camp.
Minutes later, Marlow was standing in the camp's driveway when he heard a fourth gunshot. The troopers drove out of the camp and headed south toward the gunfire. "Two telephone poles" away, Marlow said, is a weed-infested driveway that's barely visible from the road. It wends into the woods until it meets a light-blue, rundown camper nestled in a small clearing in the dense forest. It was likely Matt's last taste of civilization.
In the camper, State Police investigators smelled smoke, possibly from a cigarette. A lone chair sat on the ground outside.
Matt, a 49-year-old Niagara County man who was serving 25 years to life in prison for killing his boss, was alone in the woods nearby, clutching his 20-gauge shotgun and possibly drunk from the liquor he'd pilfered from cabins. He and Sweat had split up a day or two earlier, Sweat would later tell investigators, because Matt was out of shape, drinking too much and slowing them down.
State Police Maj. Charles Guess, who heads Troop B in Malone and was the tactical leader of the three-week manhunt, pulled up in his unmarked cruiser. Within an hour of the two hunters finding the open bottle of gin,
Route 30 was shut down as a State Police helicopter hovered overhead and the vehicles of dozens of search team members, including federal agents and Vermont State Police, lined the side of the two-lane highway.
A fifth shot rang out in the distance around the time that U.S. Border Patrol agents arrived at the scene.
"I stayed in the camp driveway with some police," Marlow said in his statement to investigators. "I paced back and forth for a while, it seemed like two hours or so. At about 3:45 p.m., I heard what seemed to be about 20 gunshots that sounded to be from more than one gun. The police told Bob and I to go inside his house."
Less than two hours later, State Police announced that a search team member — a U.S. Border Patrol agent assigned to a special tactical unit — had killed Matt, shooting him three times in the head. Chief Patrol Agent
John Pfeifer, of the border patrol's Swanton Sector Vermont, said Matt failed to raise his hands when ordered to do so and aimed a 20-gauge shotgun at the officers. The search teams quickly created a perimeter around the area where Matt was killed.
Two days later, just beyond the northern edges of the perimeter, and less than 2 miles from the Canadian border, a State Police sergeant on patrol shot and captured Sweat. Sgt. Jay Cook was alone in a marked State Police vehicle when he spotted Sweat dressed in camouflage clothing and shuffling along a rural road next to a farm field.
State Police officials said Sweat fled when Cook ordered him to stop. The trooper fired his handgun at Sweat as he ran toward a tree line, striking him twice in the back.
Sweat, 35, was treated for his gunshot wounds at Albany Medical Center Hospital. He was returned to the custody of the state Department of Corrections and Community Supervision last week and sent to Five Points prison in Romulus. He's serving a sentence of life without parole for killing a Broome County sheriff's deputy in July 2002.
Marlow, meanwhile, is expected to receive a $75,000 reward for providing information that led police to find Matt. It's unclear whether Willett, as a correction officer, is entitled to share in any reward. Willett declined to be interviewed for this story.
Last week, a Deputy U.S. Marshal from Albany fingerprinted Marlow and took his photograph. Under the agency's policy, Marlow will be treated as a confidential informant and the fingerprints will be used to verify his identity before the reward — $25,000 from the U.S. Marshal's Service and $50,000 from the state of New York — is processed.
"We were very vigilant about checking the camps, not just our camps," Marlow said. "We never really expected to find them over here. I've walked these woods before. ... It's quite a hike to go the way they went. These mountains are big. They'll eat you up."

Copyright 2015 the Times Union