A promising model for integrating non-sworn clinical professionals into police departments
The Cambridge Police Clinical Support Unit partners non-sworn clinical professionals with specially trained police officers to reduce the incarceration of vulnerable populations
---
This article is reprinted with permission from the Academy of Criminal Justice Sciences Police Forum newsletter.
By James G. Barrett, Ph.D.
The Cambridge Police Department (CPD) has worked for the past 10 years to change its community policing philosophy to focus more on prevention, intervention and diversion.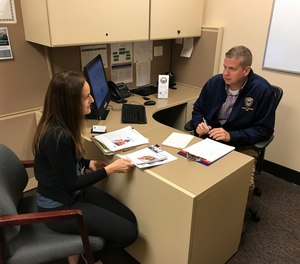 The CPD developed a community-engaged model of law enforcement, dedicated to improving the outcomes of those struggling with homelessness, mental illness and substance abuse. To this end, the CPD has developed the Family and Social Justice Section (FSJS), which includes the Clinical Support Unit (CSU), comprised of a clinical psychologist and two social workers embedded in the police department.
The mission of the FSJS is for non-sworn clinical professionals to partner with specially trained police officers to reduce the incarceration of vulnerable populations, reduce the need for emergency service utilization (e.g., frequent ER trips) and improve access to outpatient and community-based supports and services.
Description of the Clinical Support Unit
The Clinical Support Unit is comprised of non-sworn professionals who support the Family and Social Justice Section's mission to provide specific services to vulnerable members of the community (e.g., juveniles, those who are homeless, have mental health concerns or substance use disorders) who would be better served through a "social justice approach" than what could be afforded to them through conventional criminal justice approaches.
The integration of clinical support specialists into police departments can both reduce the burden and strain on officers while also improving outcomes and safety for vulnerable populations. [1] By bringing professional staff and specialists together, CPD and the FSJS are committed to providing vulnerable members of the community with a stronger sense of belonging through customized support, while enhancing the public's trust. Through a psychologist, two licensed social workers and a case manager, the CSU provides assessment, linkage to services, and prevention programming to the residents of Cambridge. The unit also provides training, consultation and program development and evaluation support to the sworn officers of the CPD (see Table 1).
Table 1: Clinical support services 
Provided to the community
Outreach
Assessment
Help to interface with and navigate CPD
Linkage to supports and services
Prevention and education programming
Facilitate community partnerships and collaboration
Provided to the police department
Consultation to officers
Training
Case management assistance
Program evaluation/continuous improvement
Professional networking (locally and nationally)
Develop policies, procedures and best practices
The CSU along the Sequential Intercept Model
The activities and services of the CSU are best understood by charting them along the Sequential Intercept Model (SIM).
The SIM has a series of intercepts from 0-5 (0=Community Services, 1=Law Enforcement, 2=Detention/Court Hearings, 3=Jails/Courts, 4=Reentry, 5=Community Corrections) where vulnerable populations can enter the criminal justice system. [2] The SIM identifies opportunities for behavioral health services to intercept a justice trajectory and prevent deeper involvement in the criminal justice system. [3]
The CSU looks to intervene at each intercept in an effort to keep vulnerable populations in the city of Cambridge from entering deeper into the justice system. Clinicians from the CSU collaborate with community service providers, specialty court sessions, probation and parole as well as jail clinical staff in order to have the capacity to intervene at each intercept along the continuum of the SIM (see Figure 1).
For example, social workers from the CSU are able to assist with involuntary hospitalizations and commitment for substance use treatment. The CSU staff also work with detectives when criminal complaints are made against residents with mental health concerns to determine if the case can be heard in a specialty mental health session of the district court. Further, when criminal complaints are made by someone suffering from paranoia or a delusional disorder, clinical staff partner with a detective on the case to ensure the matter is fully investigated while also seeking to connect the person to support services. If someone with a mental health concern is on parole or returning from jail, CSU staff collaborate with jail staff and probation or parole to ensure services are in place for that individual upon their return to the city.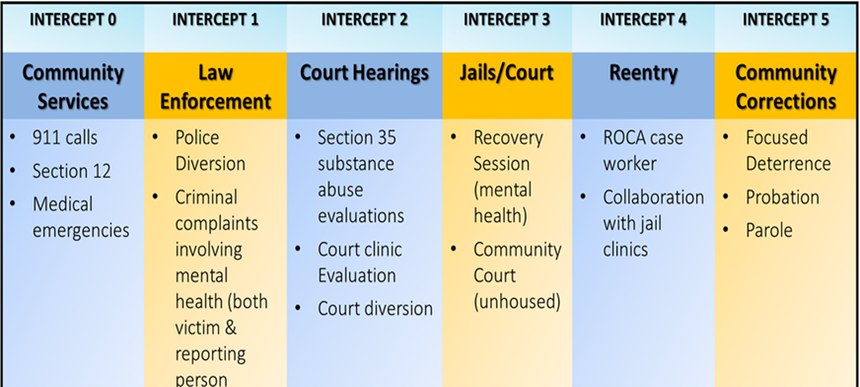 The importance of diversion
One of the major mechanisms by which the CSU and FSJS prevent incarceration of vulnerable populations is diversion. Police have tremendous agency as to what happens after the potential offense occurs. If a charge is filed and processed in court, an individual is at higher risk of deeper involvement in the justice system. However, if the individual is diverted, either into a police-based diversion program or specialty court program designed to work with vulnerable populations, that person is able to receive treatment and support services aimed at reducing the problematic behavior that led to contact with the police in the first place. [4] For police to effectively divert vulnerable populations away from incarceration and justice-system involvement, they need effective partnerships with providers in social services and mental health.
Second, vulnerable populations are at risk of engaging in behavior that potentially involves criminal complaints. Those struggling with mental health issues, and especially those with co-morbid substance abuse disorders, or who are homeless can be at heightened risk to be reported for violations ranging from trespassing, drug offenses, assault, shoplifting, etc. [5] Likewise, we know that adolescents are the age group that is at the highest danger of being arrested due to the risk behaviors that are a normative part of adolescent development and this risk is greatly compounded if that young person suffers from a diagnosed mental health condition. [6] Consequently, police are often the first to be called to respond to young people experiencing mental health issues.
In Cambridge, FSJS diversion efforts have been successful in reducing juvenile arrests and recidivism and increasing access to behavioral health services. [1, 7, 8] As one Cambridge Police detective recently told CPD leadership, "before the Family and Social Justice Section, if we got a juvenile case, we would just file the charge in juvenile court. We had no other options of what we could do with it." CPD is currently undergoing a large-scale evaluation of the FSJS efforts with outreach and diversion with our adult population who suffer from mental health concerns, homelessness, and substance use disorders.
Integrating clinical staff into police departments
When considering options to increase capacity to respond to vulnerable populations, one of the challenges police departments can face is how to integrate non-sworn professional staff into the operations of a law enforcement agency. [9] The paramilitary structure of traditional police departments often does not map smoothly onto the roles and responsibilities of non-sworn staff. One of the advantages of a standalone unit of professional staff, such as the CSU, is that it allows for the supervision and reporting structure to be managed by professional staff. This can help buffer the difficulties that non-sworn professionals can sometimes experience fitting into a sworn police reporting structure (e.g., officer, Sergeant, Lieutenant, etc.).
In contrast to models where clinicians from outside agencies partner with police, the integration of non-sworn clinicians into the police department can allow for more effective and seamless collaboration on cases involving high-risk individuals. For example, by sharing access to the same record management system and working side-by-side in the same building, the pairing of a clinician with an FSJS outreach officer can work to ensure fair and just criminal justice outcomes while also making sure the person is connected to needed services and supports.
As police agencies work nationally on how to best respond to vulnerable populations, it is the hope of CPD that the FSJS and CSU can serve as a promising model for integrating clinical staff into police departments to better serve those in the community most at-risk for harmful criminal justice outcomes.
POLICE1 RESOURCES: LEARN MORE ABOUT MENTAL HEALTH OUTREACH PROGRAMS
References
1. Barrett JG, Flores M, Lee E, Mullin B, Greenbaum C, Pruett EA, Cook BL. (2021). Diversion as a Pathway to Improving Service Utilization Among At-Risk Youth. Psychology, Public Policy, and Law. Advance online publication. 
2. Munetz MR, Griffin PA. (2006). Use of the sequential intercept model as an approach to decriminalization of people with serious mental illness. Psychiatric Services, 57, 544-549.
3. Comartin EB, Nelson V, Smith S, Kubiak S. (2021). The criminal/legal experiences of individuals with mental illness along the sequential intercept model: an eight-site study. Criminal Justice and Behavior, 48(1), 76-95.
4. Steadman HJ, Naples M. (2005). Assessing the effectiveness of jail diversion programs for persons with serious mental illness and co‐occurring substance use disorders. Behavioral Sciences and the Law, 23, 163-170.
5. Watson AC, Compton MT, Pope LG. (2019). Crisis response services for people with mental illnesses or intellectual and developmental disabilities: A review of the literature on police-based and other first response models.
6. Wilson HA, Hoge RD. (2013). The effect of youth diversion programs on recidivism: A meta-analytic review. Criminal Justice and Behavior, 40(5), 497–518. 
7. Barrett JG, Janopaul-Naylor E, Rose J, Progovac AM, Hou SSY, Lê Cook B. (2019). Journal of Applied Juvenile Justice Services, 125-137.
8. Janopaul-Naylor E, Morin, SL, Mullin B, Lee E, Barrett JG. (2019). Promising approaches to police–mental health partnerships to improve service utilization for at-risk youth. Translational Issues in Psychological Science, 5(2), 206-215.
9. King WR, Wilson JM. (2014). Integrating civilian staff into police agencies. Washington, DC: Office of Community Oriented Policing Services.
---
About the author
James G. Barrett, Ph.D., is the director of clinical support services at the Cambridge (Massachusetts) Police Department and an assistant professor of psychology in the Department of Psychiatry (part-time) at the Harvard Medical School. He is the former director of school-based programs in the Division of Child/Adolescent Psychiatry at the Cambridge Health Alliance, and the author and developer of the Fight Navigator curriculum under the Eleanor and Miles Shore Fellowship from the Harvard Medical School to address retaliatory violence in youth. He has presented at numerous national conferences on juvenile justice, gang violence, preventing retaliatory violence and police-mental health partnerships.