Groups of thieves rush Minn. Best Buy stores on Black Friday
The two incidents resemble a number of so-called mass robberies recently reported across the country
---
By Nicole Norfleet
Star Tribune
        
MINNEAPOLIS — Days after the head of Twin Cities-based Best Buy warned analysts that the retailer was seeing an uptick in crime, numerous shoplifters apparently working in tandem Friday night rushed two metro area Best Buy stores, grabbing high-priced items before fleeing.
Both crimes occurred shortly after 8 p.m. on one of the busiest shopping days of the year following the Thanksgiving holiday. Police said a group of 20 to 30 people stole merchandise at the Burnsville store, while 10 to 12 adults and juveniles were said to have looted the Maplewood store.
No one was injured, and as of Saturday no one was reported arrested in connection with the thefts. They came after a series of brazen mass robberies at other retailers nationwide.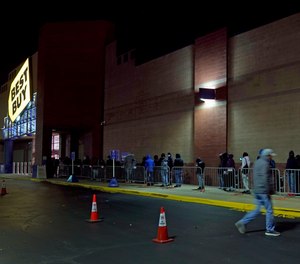 "Retailers across the country are seeing spikes in crime," a Best Buy spokesman said in a statement Saturday. "These incidents have been, by and large, nonviolent though often traumatic for those who witnessed them. As an industry, we are working with local law enforcement and taking additional security precautions where it makes sense."
No weapons were seen in the Burnsville incident, Burnsville police Capt. Don Stenger said. "We don't know exactly what was taken or the dollar value," he said.
Maplewood police, who arrived at the store at 8:10 p.m. Friday, were told that the group of suspects had entered the store at the same time and worked together to steal numerous items, including TVs, tablets and hoverboards.
The Star Tribune was at the Maplewood Best Buy store early Friday morning, where crowds were bigger than on Black Friday last year when many shoppers decided to stay home out of caution due to the COVID-19 pandemic. Security personnel were posted at the front of the store as people shopped and paid for their merchandise.
Police were working with the Minnesota Bureau of Criminal Apprehension to identify the suspects and determine whether the crimes were related. They resemble a number of so-called mass robberies recently reported in the United States, where groups of people "swarm" a store, clear the shelves of goods and then flee.
[Related: Latest smash-and-grab theft hits Southern California Nordstrom]
"Across the board, retailers are getting more concerned with this growing trend. ... It is definitely a tough problem to solve, given the organized nature and number of people involved in many of the incidents," said Chris Walton, a former Target executive who co-leads retail blog and podcast Omni Talk and the Minneapolis retail lab Third Haus.
Several burglaries were reported in Chicago stores on Black Friday. There were smash-and-grab incidents reported earlier this month at high-end brands like Louis Vuitton in the San Francisco area. Walgreens recently said it was closing several of its drugstores in San Francisco, citing "organized retail crime."
Walton said he expected retailers to post more security guards at the doors and more controlled entry and exit points into buildings, in addition to investments in technology that can better identify potential suspects. There could also be more lobbying for changes to shoplifting laws and calls for better regulation of online resale sites.
Best Buy is lobbying on the federal level for a law that would make the online re-selling of stolen goods more difficult.
"We are definitely seeing more and more, particularly, organized retail crime and incidence of shrink in our locations. ... And this is a real issue that hurts and scares real people," Best Buy CEO Corie Barry said earlier this week during an earnings call with analysts.
Barry said Best Buy is locking up some products and hiring security to try to counteract some of the crime. Best Buy leaders said such crime is playing a role in the company's falling profit margins.
It remains to be seen how organized these particular Best Buy crimes were or if shoplifters decided to act on the spur of the moment, perhaps copycatting other crimes seen on social media, said Mike Olson, chief executive of Minneapolis-based 360 Security Services and a former U.S. Secret Service special agent and St. Paul police officer.
"With everybody wearing masks because of COVID and law enforcement resources spread thin, you certainly create a perfect storm for would-be criminals," Olson said.
Theft, fraud and losses from other so-called retail "shrink" reached almost $62 billion in 2019, up from $50.6 billion the year before, according to the National Retail Federation (NRF).
"Between an increase in incidents and new ways to steal, shrink is at an all-time high," NRF Vice President for Research Development and Industry Analysis Mark Mathews said in a statement.
During the holidays, shoplifting incidents rise because there is a bigger market of people who will buy stolen goods, he said. He added that it's important for retailers to communicate with each other and for law enforcement groups to collaborate to spot crime circles.
Shoppers can also play a role and should come forward with information that could possibly help improve safety, especially since the cost of shoplifting eventually is passed to them, Olson said. "It is everybody's job to take ownership in our community," he said.

©2021 StarTribune.
McClatchy-Tribune News Service