Avoid the 'paddy wagon' this St. Patrick's Day
There are several theories as to why early police vehicles came to be known as 'paddy vans,' a term still in use today
---
Early police vehicles – like the one pictured here from the 1920s – were known as 'paddy wagons.' The meaning and origin of this nickname are not entirely clear, but many theories exist.
Two possible origins relate to early American prejudices about the Irish, who were often called 'paddies,' probably referring to the Irish name Pádraig or Patrick (also the name of the patron saint of Ireland).

In the 19th and early 20th centuries, many Irish immigrants settled in the United States and began careers as police officers. By 1860, one in four New Yorkers – over 200,000 – had been born in Ireland. Around that time, nearly half of New York City's law enforcement officers were also Irish. Therefore, a paddy wagon might have gotten its name because it was a vehicle often driven by an Irishman.
However, paddy wagon may also describe a vehicle that carried several Irishmen, referencing the high number of Irish people arrested in those times.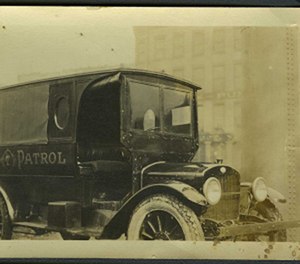 Looking back again to the 1860s, more than half of those arrested in New York City were Irish.

Whether it originally referred to lawmen or lawbreakers, 'paddy wagon' is still a term for a police vehicle – usually a van – designed to accommodate a group of prisoners.
So as you celebrate this St. Patrick's Day, avoid the paddy wagon, mo chara!