NJ mayor faces backlash after halting off-duty work program
A New Jersey mayor faces criticism from police after he pledged to end a program that allows officers to make extra money working off-duty jobs
---
By Police1 Staff
JERSEY CITY, N.J. — A New Jersey mayor faces criticism from police after he pledged to end a program that allows officers to make extra money working off-duty jobs.
The Jersey Journal reports that Jersey City Mayor Steve Fulop made the move after the program came under fire from a federal investigation. The investigation revealed that officers were abusing the program by submitting time sheets for off-duty work they never did.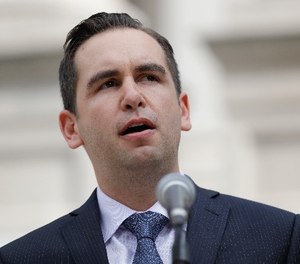 "For too long the program has been abused with police officers more focused on off-duty work than on-duty work," Fulop said. "The widespread corruption was known by countless officers within the department and the degree of abuse is astonishing."
Fulop's announcement has led to a slew of criticism from Jersey City police and their supporters. A city official reported receiving 40 angry phone calls from officers after the mayor's announcement. 
"Mayor Fulop has shared no plan with the union regarding the future off-duty jobs," Carmine Disbrow, president of the Jersey City Police Officers Benevolent Association, said in a statement. "We'd much prefer to have this conversation with him face-to-face than through social media or the press. While we understand the need for change in the way assignments are distributed, we hope that he understands how critically important these jobs are to keeping Jersey City safe."
Relations between Fulop and the department has already been strained after several incidents, including a contract dispute that ended up eliminating the pay raises officers were eligible for in 2020.
It wasn't made clear when the changes will go into effect or how the city will replace off-duty officers. Officers working off-duty typically worked security for private companies and at city parades and festivals.
Off-duty work can be lucrative for officers. Pay rates can range from $35 to $130 an hour. In 2017, officers made $16,075,749 working off-duty jobs, more than double the $7.1 million officers made working overtime.
Officers said off-duty work is especially helpful for rookie cops, who make $37,000 annually. Critics said that officers will likely look elsewhere to work if the mayor follows through with his plan.
But Fulop's administration believes its critics understate how much rookie officers make. Of the 120 who joined the force in 2016, 27 made more than $45,000 counting overtime. If off-duty worked was included, 29 topped $60,000.
The median income for Jersey City officers is $100,295.