Ga. cop dies after inhaling liquid nitrogen during rescue attempt
Sgt. Greg Meagher died after inhaling liquid nitrogen while trying to save a worker inside a sperm bank
Duty Death: Greg Meagher - [Richmond County, Georgia]
End of Service: 02/05/2017
---
By James Folker
The Augusta Chronicle
RICHMOND COUNTY, Ga. — A Richmond County sheriff's deputy died Sunday after inhaling liquid nitrogen while trying to save a worker inside a sperm bank.
Three other deputies were injured but "are going to be OK," Lt. Allan Rollins said late Sunday.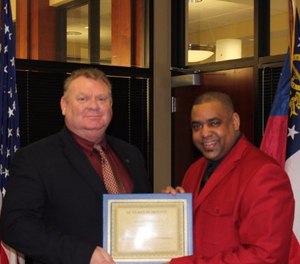 Sgt. Greg Meagher, 57, went to Xytex at 1100 Emmett St. about 3:30 p.m., according to a news release from the sheriff's office.
"Upon arrival, Sgt. Meagher succumbed to injuries sustained after inhaling an unknown chemical substance," the release said.
The chemical was liquid nitrogen, according to Dee Griffin, the spokeswoman for the Augusta Fire Department and Augusta's Emergency Management Agency. The chemical is used to freeze sperm donations.
Three other deputies who had responded to the call already had been taken to a hospital after complaining of shortness of breath when firefighters arrived just before 4 p.m.
The firefighters found the unresponsive deputy and a female Xytex employee inside the building. Meagher had gone into the building to try to rescue the woman, according to Richmond County Coroner Mark Bowen.
Both were taken to AU Medical Center, where Meagher was pronounced dead about 4:30 p.m., according to Bowen. Meagher's body was sent to Atlanta for an autopsy.
Two fire department hazardous materials teams were called out and shut off liquid nitrogen tanks, according to a news release from Griffin. No firefighters were injured.
There was no information on the condition of the Xytex employee.
Meagher was a 33-year veteran with the sheriff's office and a former drug investigator. He was shot in the face in 2004 when he was assisting federal agents in a drug sting in Burke County. The bullet entered his jaw and exited the back of his neck. He was airlifted to the then-Medical College of Georgia Hospital, where he was listed in critical condition.
Meagher helped a colleague chase down motor vehicle thieves in 1985 and helped rush a pregnant woman from a south Augusta restaurant to University Hospital as she went into labor, according to records from Meagher's personnel file, obtained by The Augusta Chronicle after his 2004 shooting.
Meagher also was commended for assisting the Office of the Inspector General of the U.S. Department of Justice during a 1996 undercover drug investigation of a deputy U.S. marshal, a letter states.
In 2000, officials at the Savannah River Technology Center commended Meagher and other colleagues for helping a Justice Department employee observe the use of a surveillance camera to make arrests in a drug trafficking area.
Records show Meagher went to the Criminal Investigation Division in 1989. He started with the sheriff's office in 1984.
McClatchy-Tribune News Service