Ga. deputy killed by suspect who stole patrol car was on the job for less than 1 year
Deputy Tyee Browne was a military veteran and served with the Crisp County Sheriff's Office for 10 months
Duty Death: Tyee Michael Browne - [Cordele, Georgia]
End of Service: 07/05/2023
---
By Sarah Roebuck
Police1
CORDELE, Ga. — A deputy who was shot and killed in the line of duty had been with the department for 10 months, according to the sheriff's office. 
Deputy Tyee Browne was a military veteran and started with the Crisp County Sheriff's Office in February of 2022, the sheriff's office said. In September of 2022, he transferred to the Uniform Patrol Division after graduating from basic mandate.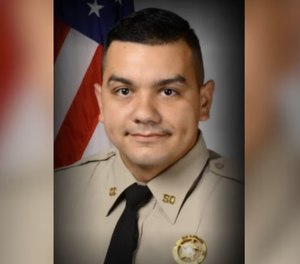 Funeral services for Browne will be held at 2 p.m., Monday, July 10, 2023, at the Crisp County Middle School Auditorium. Visitations will be 3 p.m. to 5 p.m., Sunday, July 9, 2023, at Hughes & Wright Funeral Home.
"Deputy, son, grandson, loved one, and friend, while these are all titles that describe Deputy Tyee Browne, hero is the title we bestow upon him today. At 26 years old, this young man faced evil in protecting this community," Sheriff Billy Hancock said in a statement.
Browne was conducting a traffic stop on a suspicious vehicle. The 26-year-old checked the car's history and it had been reported stolen. As Browne was checking the car, the suspect, identified as Croshawn Cross, shot Browne and fled the scene in Browne's marked patrol car. 
Before Cross fled the scene, responding deputies fired shots at Cross. 
Browne was taken to a hospital in critical condition where he died. 
Cross led deputies on a pursuit through multiple counties in Georgia and was eventually arrested on I-475. The stolen patrol car was also recovered. 
Cross has been charged with malice murder, felony murder, aggravated assault (two counts), theft by receiving stolen property, carjacking, possession of a firearm by a convicted felon (three counts), possession of a firearm during the commission of a crime (three counts), and theft by taking (two counts).