Ga. officer struck, killed while directing traffic
Officer Anthony Christie had been with the Savannah Police Department for about 2 and a half years
Duty Death: Anthony Christie - [Savannah, Georgia]
End of Service: 05/25/2018
---
Lisa Wilson
The Island Packet (Hilton Head Island, S.C.)
SAVANNAH, Ga. — A Savannah police officer was killed Friday morning at the scene of a vehicle accident on Interstate 16, city officials announced at a noon news conference.
Officer Anthony Christie, who had been with the Savannah Police Department about 2 1/2 years, was killed while responding to an initial crash near the Dean Forest Road exit about 3:20 a.m., according to interim Police Chief Mark Revenew.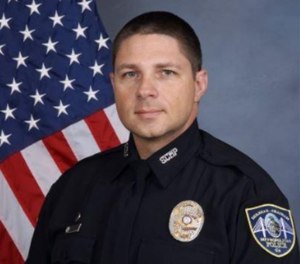 Christie, 37, was directing traffic at the scene of the accident when a tractor-trailer struck his patrol car and killed him, Revenew said.
A third crash occurred in the same area about 5:30 a.m., WTOC television station reported.
The initial crash was a head-on collision that was the result of a vehicle traveling the wrong way on the highway, the police department reported.
Christie was in his parked patrol car with his lights activated helping to divert traffic off the interstate when his car was hit.
The driver of the tractor-trailer was not injured, WJCL reported.
Lanes were closed and traffic detoured for hours before the scene was cleared about 10 a.m., WTOC reported.
The Georgia State Patrol is investigating the accident, Revenew said.
The Savannah Police Department is deeply saddened by the loss of Officer Anthony Christie. He was fatally wounded after his patrol car was struck by a tractor trailer on Interstate 16 this morning. Please keep his family, friends and our department in your thoughts and prayers. pic.twitter.com/nUsXFiFhdA

— Savannah Police Department (@SavPolice) May 25, 2018
"Most of the time I start off with 'It's a great day to be in the City of Savannah,' but it's a sad day to be in the City of Savannah today," Mayor Eddie DeLoach said at the news conference.
"We grieve with his wife, Nicole. We grieve with his family who he's left behind," DeLoach said. "We grieve for our community."
Christie was a decorated war veteran who served 13 years in the U.S. Navy and had been a reservist, according to a police department news release.
He had been assigned to the Savannah Police Department's Central Precinct, and he, along with other officers were awarded a Team Work Award for assisting in the search and rescue of a missing child abandoned in the woods by a robbery suspect in 2016, the news release said.
"Officer Christie was doing what many of our officers do every day when he was tragically struck this morning," Revenew said. "We know policing is a dangerous job, but that doesn't make incidents like this any less heartbreaking for our community, our department and the entire blue family."
Funeral arrangements for Christie were not announced.
©2018 The Island Packet (Hilton Head, S.C.)
McClatchy-Tribune News Service