Houston officer struck, killed by fleeing suspect
Officer Richard Martin, 47, was putting down spike strips to stop the vehicle when he was hit
Duty Death: Richard Martin - [Houston, Texas]
End of Service: 05/18/2015
---
Associated Press
HOUSTON — A Houston officer was struck and killed Monday by a stolen vehicle driven by a robbery suspect who shot at police before wounding himself, police said.
Officer Richard Martin, 47, was putting down spike strips to stop the vehicle when he was hit and died at the scene, said police Chief Charles McClelland.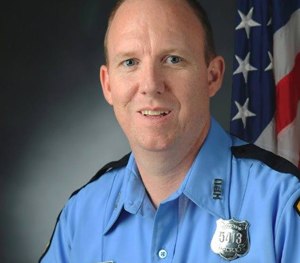 Police did not immediately identify the hospitalized suspect. His condition was not released.
Officers before dawn Monday were investigating a convenience store robbery when they spotted a suspect in a stolen van. Police say the suspect fired at officers, abandoned the vehicle and carjacked a minivan, pushing the driver out. She was treated for minor injuries, McClelland said.
The suspect drove off in the minivan, using the vehicle to ram Martin, the chief said.
"Officer Martin attempted to deploy spike strips to disable the vehicle. We have every belief to indicate to us that the suspect intentionally struck and killed Officer Martin," McClelland said.
The chase continued until the minivan stopped, officers heard gunfire and found the wounded suspect, who had turned the gun on himself, police said. No other officers were hurt.
The suspect would face a capital murder charge in Martin's death, prosecutors said.
Houston Mayor Annise Parker issued a statement of condolences following the death of Martin, a four-year member of the police department who had two children.
Copyright 2015 The Associated Press