Mich. trooper dies 3 weeks after being struck by suspected drunk driver
Caleb Starr, 33, is survived by his wife and two young daughters
Duty Death: Caleb Starr - [Ionia County, Michigan]
End of Service: 07/31/2020
---
By John Tunison
MLive.com
IONIA COUNTY, Mich. -- A 33-year-old state police trooper critically injured in a July 10 head-on crash near Saranac has died.
State police late Friday, July 31, said that Trooper Caleb Starr had died at Spectrum Health Butterworth Hospital.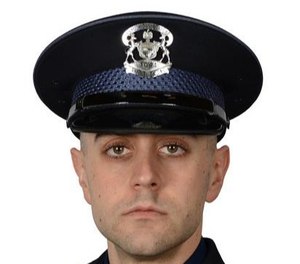 He was critically injured when a vehicle headed east on Grand River Avenue, west of Nash Highway, crossed the center line and collided with Starr's westbound cruiser. The crash happened about 10 p.m.
About a week after the crash, police said they believed alcohol was a contributing factor on the part of the other driver, a Utah woman who also was critically injured.
Starr is survived by his wife, Rachael, and their two daughters, ages 5 and 2. The family lives in Mason.
A GoFundMe page established to help the Starr family had raised almost $47,000 by Thursday night.
"The Michigan State Police mourns the loss of not just a trooper, but a husband, father and dedicated public servant who had so much left to give in a life that was cut far too short," said Col. Joe Gasper, director of the MSP, in a written statement.
Starr joined the state police in September 2018 and was assigned to the Lakeview post.
McClatchy-Tribune News Service