Ohio officer killed in crash while responding to assist another officer
Officer Tim Unwin, 31, was killed when his patrol car collided with another vehicle
Duty Death: Tim Unwin - [Hamilton County, Ohio]
End of Service: 03/31/2023
---
By Michael D. Pitman and Christian LeDuc
Journal-News
NORTH COLLEGE HILL, Ohio — Springfield Twp. police officer Timothy J. Unwin, a former Hamilton patrol officer, died in a double-fatal accident early Friday morning in North College Hill.
He was responding to "an officer needs assistance" call.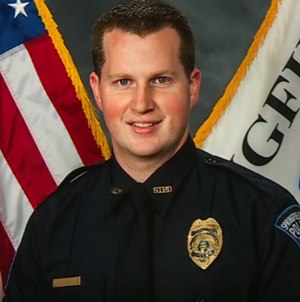 Police Chief Rick Bley said in a press conference the 31-year-old was responding just after midnight to assist when the crash occurred.
"This is an extremely emotional and sad day for the family and friends of the two men who died, as well as the entire Springfield Twp. Police Department and for our community as a whole," Bley said.
The chief said the Hamilton County Sheriff's Office is investigating the accident and identified the other driver as 50-year-old William Dunson.
Unwin had been a Hamilton police officer for nearly two years, being appointed to the job on Aug. 5, 2019, according to the department. He resigned in May 2021 to take the job with Springfield Twp. Unwin completed his OPOTC police officer training in 2016, two years after graduating from Cincinnati State. He is also a 2009 graduate of Harrison High School.
Hamilton Avenue was closed between Clovernoll Drive and Centerridge Avenue near Ronald Reagan Highway in North College Hill for about five hours as crews worked to clear the scene. WCPO reported Unwin's cruiser was "almost unrecognizable," and the other vehicle was also heavily damaged.
Hamilton Police Chief Craig Bucheit said the community's thoughts are with all impacted.
"While Tim's time here was brief, his impact was significant in terms of the lives he touched and the many relationships he forged," he said.
Ohio Attorney General Dave Yost offered his condolences to Unwin's family, fellow officers, and the Springfield Twp. community.
"Civil society depends on selfless sacrifice, sometimes the ultimate sacrifice," he said. " We should never take their service for granted."
Colerain Twp. police reported one of its officers was involved in another crash at Pippin and Springdale roads. That officer was responding to the accident scene on Hamilton Avenue. The Colerain Twp. officer was taken to the hospital to be treated for what had been described as minor injuries.
(c)2023 the Journal-News (Hamilton, Ohio)
Visit the Journal-News (Hamilton, Ohio) at www.journal-news.com
Distributed by Tribune Content Agency, LLC.
McClatchy-Tribune News Service