SC officer struck, killed while removing debris from road
Lance Cpl. Melton Gore is the agency's second duty death in as many weeks
Duty Death: Melton Gore - [Horry County, South Carolina]
End of Service: 01/12/2021
---
By Alex Lang
The Sun News (Myrtle Beach, S.C.)
HORRY COUNTY, S.C. — For the second time in as many weeks, an Horry County area police officer lost his life in the line of duty.
Horry County police announced Tuesday that Lance Cpl. Melton Gore died while removing debris from the road on S.C. Highway 22 near S.C. Highway 31. He was hit by another vehicle as he tried to remove the obstruction. The South Carolina Highway Patrol continues to investigate the crash.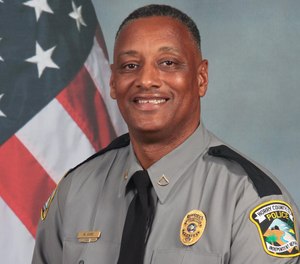 "It's a tough time for the Horry County Police Department, its members and our community," Chief Joe Hill said at a Tuesday evening press conference a few hours after Gore was killed.
The 5:30 p.m. incident remains under investigation and Hill said the person who struck Gore "probably didn't wake up thinking they were going to kill a cop today."
Gore's death is the second in as many weeks for the Myrtle Beach area, and fourth in the last six months.
On Jan. 1, North Myrtle Beach police Sgt. Gordon Best died in a crash while responding to a call. His funeral was held on Friday.
Shortly after the news of Gore's death, North Myrtle Beach police posted on Facebook to express its condolences.
"Another tragic loss. Our thought and prayers will be with the family and Horry County Police Department. We will be here for you like you are were for us a few short days ago," the post read.
On Oct. 3, Myrtle Beach police officer Jacob Hancher died while responding to a domestic call at Yaupon Drive and 14th Avenue South. The officer was shot and killed by a suspect, who later died in the shooting.
Hancher was a police officer for just months before he was shot and killed.
Horry County also had an active duty police officer die in late summer. In August, Cpl. Michael Ambrosino died from coronavirus-related complications. He was a 30-year law enforcement veteran who was most known for his time on beach patrol.
Hill said the department hasn't processed the fact Gore's death is the agency's second in a matter of months.
"We got some time we're going to be grieving, along with Gore's family," Hill said.
Who was Melton Gore?
Gore was a 20-veteran with Horry County police, officials said. He worked as an Environmental Officer and handled animal welfare calls and litter complaints. He was known as "Fox" around the department and renowned for his cooking and hosting events.
"You knew he put a lot of love into what he did for Horry County, the Horry County police department and for his cooking for folks around him," Hill said. "What a wonderful guy."
Hill then remembered a brief conversation he had with Gore earlier Tuesday.
"He says, 'I can't wait till I can cook for you again,'" Hill said, " Unfortunately that won't happen."
Horry County Chairman Johnny Gardner said their thoughts are with Gore's family and the entire community is hurting over his loss.
"Our hearts are breaking tonight," Gardner said.
At the time of the incident, Gore was removing debris, Hill said. While others might have swerved to avoid it, Gore cared about the community and wanted to make sure nobody was hurt. Hill asked local drivers to remain vigilant and be aware of people working on the road.
Officials asked for privacy for the Gore family and Hill said the department will grieve along with the family.
"Fox is looking down saying, 'it's going to be OK, hang in there and continue the business of the county," Hill said.
(c)2021 The Sun News (Myrtle Beach, S.C.)
McClatchy-Tribune News Service