Expect a court order if you receive a racist meme
And job action if you ignore it
---
It happened again last month. A newspaper reporter contacted me about the ramifications of some city-wide – soon to become national – fallout, about an internet post by a police officer. I've received many such calls or emails because of my writing about this on Police1. This reporter, Darcy Costello, a Pulitzer Prize finalist, writes for the Baltimore Sun. The incident she was reporting on involved a Maryland State Police Trooper posting a racist meme.
The facts
Corporal Jason Oros was part of a local, state, and federal law enforcement task force addressing drug-related violence in Baltimore. He supervised officers from some of the involved state and local agencies.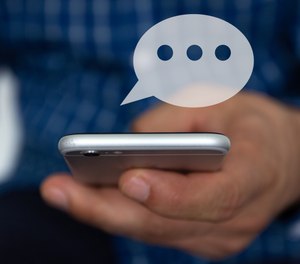 Eight days after Minneapolis police officers murdered George Floyd, Oros sent an image of Floyd on the ground dying to a workgroup chat of more than a dozen members of the task force. In place of Derek Chauvin kneeling on Floyd's neck, there was a naked Black man with his penis exposed. Reactions varied from silence, to "haha," to "Oh my god," to "That's ignorant."
Before the matter became public, Maryland State Police launched an internal investigation. Oros was suspended, his cell phone confiscated, and he was charged administratively with harassment, conduct unbecoming, and misuse of a work phone.
The fallout
Oros retired to avoid termination in a settlement agreement that waived his right to an appeal. He's prohibited from receiving police identification and his police certificate is "null and void."
Oros' supervisor, who also received the meme, was administratively charged with neglecting his supervisory duties and was disciplined. While Oros will receive his retirement, he may well need it to defend against the lawsuit filed by two plaintiff law enforcement officers who were also meme recipients.
It's not over in Maryland for those outside of law enforcement either. Civil rights leaders unhappy with Oros receiving retirement benefits, gathered in front of the Governor's mansion on August 23, 2023, and called on him and other elected officials to condemn Oros' post.
Officers in other parts of the country and abroad have shared a similar-looking meme and faced consequences – in San Diego and other parts of California, Kansas, and across the ocean in England.
Earlier this year
In January of this year, a Superior Court in New Hampshire decided the public has a right to the names of two Manchester police supervisors who were part of a group that received a racist meme of George Floyd texted by fellow officer Christian Horn.
In its decision, the court wrote,
Whether the supervisors' inaction in response to Detective Horn's text constitutes acceptance or tacit support of racist or 'grossly inappropriate and racially insensitive' behavior, or is emblematic of systemic racism within the Manchester Police Department, is a matter fit for public discourse."
As the Court explained, police officers have little privacy interest in records implicating the performance of their official duties – in this case, the apparent failure, whether justified or not, to report racist behavior. One of the attorneys who had sought the court order said,
Police officers should not be and are not able to remain anonymous in records implicating their performance of their official duties – in this instance, the apparent failure to report racist behavior. We are glad the court agrees: this information is in the interest of public disclosure."
Subsequently, the two sergeants' names were released in an unredacted investigatory report.
The takeaway for officers
It should go without saying, but apparently doesn't give the headlines, that officers need to quit posting bigoted garbage. I'm a realist, however. So, the takeaway for the vast majority of officers it has been my honor to work with for over 35 years is this: do not stand silently by.
I know all about the blue wall. I also know about your Oath of Honor and Code of Ethics. The Oath of Honor includes:
I will always have the courage to hold myself and others accountable for our actions. I will always maintain the highest ethical standards and uphold the values of my community, and the agency I serve."
The Code of Ethics includes:
I will keep my private life unsullied as an example to all and will behave in a manner that does not bring discredit to me or to my agency. …

I recognize the badge of my office as a symbol of public faith, and I accept it as a public trust to be held so long as I am true to the ethics of police service."
I don't need to explain how these pledges apply to receiving bigoted messaging from a fellow officer. Choose – blue wall or honor.
Choose wrong and don't expect that to stay hidden. A court has decided officers' biases about certain segments of the public – including silence in the face of such expressions – is a matter for public discourse.
The public includes all races, ethnicities, religions (or not), genders, ages and socio-economic classes. Choose wrong and you are no longer entitled to the public's trust, faith, or the badge.
NEXT: Cop's career ended by a $25 online donation and 'words of encouragement'