Md. state trooper faces drug, bribery charges for allegedly leaking info to suspect for cash
"I can't answer without payment. Even a small payment I can get you your answers," the LEO is accused of writing
---
By Darcy Costello
Baltimore Sun
BALTIMORE — A Maryland state trooper was arrested Saturday and faces federal drug and bribery charges after allegedly providing information to a suspect in exchange for money.
A redacted affidavit filed Monday in U.S. District Court accused Justin Riggs of sharing investigative details, including false plans for a wiretap in February that were part of a ruse by investigators to catch the person leaking information, with someone identified only as "Drug Distributor 1."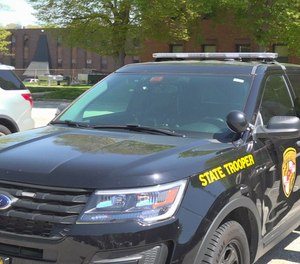 The affidavit described an individual picking up $1,800 Thursday from behind the dumpsters of a Red Roof Inn about six miles from the Hagerstown state police barrack where Riggs works. Riggs later confirmed to Drug Distributor 1 he had received the money.
Marcia Lubin, a spokesperson for the U.S. Attorney's Office for the District of Maryland, said Riggs was arrested two days later and had his initial appearance in court Monday. A detention hearing is scheduled for Friday, Lubin said.
Court records show the trooper is charged with conspiracy to distribute drugs, use of interstate facilities to commit bribery and use of interstate facilities to aid and abet drug distribution. Craig Kadish, who is listed as Riggs' attorney in online court records, did not respond to a request for comment left Tuesday afternoon at his law office and by email.
Elena Russo, a spokesperson for the Maryland State Police, said Riggs is a corporal and has been employed with the agency for 10 years.
Russo said Riggs is suspended without pay due to his arrest on federal charges. The state police also has started an administrative investigation through its Internal Affairs Division, she said.
State police spokesperson Ron Snyder said Tuesday that Riggs was the Salisbury Barrack's trooper of the year in 2013.
The redacted sworn affidavit from a task force officer working with the FBI Public and Border Corruption Task Force said Riggs has been a trooper with the state police since February 2012, most recently assigned to a drug unit in western Maryland called "WRENS," or Western Region Enforcement — Narcotics Section.
It says Riggs told a suspect, Drug Distributor 1, that he wanted money for information and that he was a member of federal law enforcement. The exact amount of money is redacted.
Riggs is accused of telling the suspect that he and another person were under a "RICO" investigation — referring to the federal racketeering law targeting criminal organizations. The affidavit also describes information in messages including a tracker and an informant.
The affidavit said the FBI joined the state police and other federal agencies to investigate who leaked information to the suspect.
The document quotes from Facebook messages exchanged between Riggs and the suspect, including discussing how much money would be exchanged.
"I can't answer without payment," Riggs is accused of writing. "Even a small payment I can get you your answers."
Riggs then allegedly leaked information about a wiretap to the suspect, but that plan was a "ruse" at the FBI's direction, according to the affidavit. He was the only member of the team not aware of the FBI probe into the information leak.
"They're going up on a wire tap on your phone," he allegedly wrote. "So everything will be monitored. Any call or text to another member will drag them into the Rico case."
The affidavit also states Riggs' credit report listed five credit cards, all of which were at or exceeding their credit limit in December. He owed $34,000 on them. His debt obligations, the document said, exceeded $67,000, not including his mortgage or vehicle and student loans.
©2023 Baltimore Sun.
Visit baltimoresun.com.
Distributed by Tribune Content Agency, LLC.
McClatchy-Tribune News Service