Calif. sheriff's department invites 49ers QB to train
The Alameda County Sheriff's office extended an invite to attend the police academy to Kaepernick
---
By Police1 Staff
ALAMEDA COUNTY, Calif. —  San Francisco 49ers quarterback Colin Kaepernick has been invited by the Alameda Sheriff's Office to attend the police academy in response to his comments against police.
"You can become a cop in six months, and don't have to have the same amount of training as a cosmetologist, that's insane," Kaepernick told KRON in a postgame interview.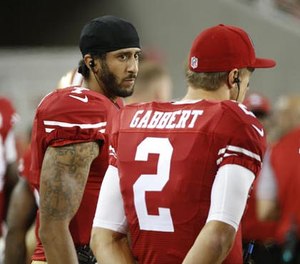 A Facebook post from the sheriff's office shows a photo of the police academy training with a personal invitation to Kaepernick.
"In addition to the academy, we train thousands of law enforcement officers from throughout the state and country in all aspects of our profession, including use of force," the Facebook post reads. "We have a specially designed Use of Force simulator that puts officers in situations where they must make split second decisions on what actions to take. In addition, we invite you to meet with our current academies and veteran officers to talk to them about their experiences and yours."