Demonstration over death of Minn. man shuts down Tenn. streets
Protesters clashed with counter-protesters and police during the silent demonstration intended to protest the deaths of George Floyd, Breonna Taylor and Ahmaud Arbery
---
Corinne S Kennedy, Micaela A Watts and Samuel Hardiman
Memphis Commercial Appeal
MEMPHIS, Tenn. — A silent demonstration Wednesday intended to protest the deaths of George Floyd, Breonna Taylor and Ahmaud Arbery turned into separate verbal confrontations with Memphis police and two counter-protesters.
The protest, which was shared earlier on social media, began around 7:30 p.m. when a small crowd of individuals parked their cars on Rembert Street and exited vehicles carrying Black Lives Matter signs.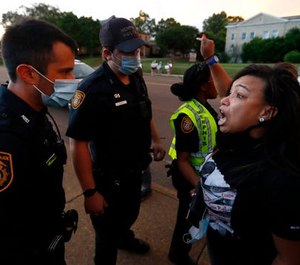 Within an hour, a crowd of 50-60 protesters faced off across the street from the Memphis Police Department precinct on Union Avenue, facing several dozen officers and the two counter-protesters, who identified themselves as members of the Facebook group Confederate 901. One held a sign reading "police lives matter comply Confederate 901" and the other with a sign reading "all lives matter." 
Memphis police temporarily shut down a portion of Union Avenue from Barksdale Street to McLean Boulevard after the confrontation grew.
When the protest started around 7:30 p.m., about 40 people gathered on the north side of Union, holding signs reading "Black Lives Matter," "stop killing black people" and "silence is violence."
Floyd and Taylor were killed during interactions with police officers. Earlier this week, Floyd died after a Minneapolis police officer knelt on his neck for an extended period, and Taylor was shot and killed in her home in Louisville, Kentucky, by officers executing a "no-knock" search warrant. Arbery was shot and killed while out jogging outside Brunswick, Georgia, after being pursued by two white men who later said they thought he was a burglary suspect.
Protesters were largely silent, with occasional chants of "no justice no peace" and the names of black men and women who had been killed by police officers. Passing drivers — and one ambulance — honked in support and waved or gave thumbs-up.
Keara Akinmoladun, whose husband helped organize the protest along with a group of local black educators, said she wanted lawmakers and people across the country to know that Memphis stood in solidarity with those protesting and grieving across the country.
"We want the immediate arrest of the people who killed George Floyd and Breonna Taylor," she said. "There's a lot of awareness, but we want action."
Union Avenue shut down after two men, one holding a sign that says "police lives matter comply confederate 901" confront protesters who gathered to protest the deaths of George Floyd, Breonna Taylor and Ahmaud Arbery pic.twitter.com/QqJsYt9t7l

— Corinne Kennedy 〽️ (@corinneskennedy) May 28, 2020
The gathering was largely silent up until about 8 p.m. when counter-protesters George "K-Rack" Johnson and Ray Dunkin arrived. Both identified themselves as members of the Facebook group Confederate 901. In the past, the group has targeted Shelby County Commissioner Tami Sawyer online for her role in protesting the equestrian statue of Nathan Bedford Forrest, which has since been removed from what is now Health Sciences Park.
Several of the protesters crossed the street to confront the two men. MPD officers kept the two parties physically apart, but as the verbal confrontation escalated, more protesters started to cross Union and some stopped in the middle of the street, kneeling and blocking traffic. 
Theryn C. Bond, a prominent local activist and former Memphis City Council candidate, confronted the counter-protesters, who occasionally jeered at the crowd to "go out for a jog" — a reference to Arbery's slaying — as tempers flared. 
She was eventually corralled back to the north side of Union Avenue around 8:30 p.m., when MPD set up metal barricades to move the protesters back onto the sidewalk, separating the demonstrators and counter-demonstrators on opposite sides of the street.
Bond, who completed treatment for a form of cancer, spoke of the importance of being physically present at a physical gathering during the COVID-19 pandemic. 
"I came out here to be supportive," Bond said. "Because this is bigger than one person. This is about more than a list of hashtags that shouldn't even exist."
By 9 p.m., about a dozen more people had joined the protest with two dozen more watching from nearby and filming. About 50 MPD officers were on the scene with about 30 standing between the protesters and the two counter-demonstrators, who stood outside the MPD precinct on Union Avenue. About 40 MPD vehicles and a K-9 unit were also present.
Theyrn Bond, local activist is confronting two members of MPD brass (I'm trying to read their name tags). She is arguing they need to be held accountable. She's upset an officer touched her tonight. pic.twitter.com/15jBnVf2l8

— Sam Hardiman 〽️ (@samhardiman) May 28, 2020
No other counter-protesters were seen joining Johnson and Dunkin, who left the lawn of the precinct around 9 p.m., telling MPD officers that they appreciated them. 
At least two individuals were handcuffed during the protest. Lt. Karen Rudolph said she could not provide a reason for the detainment until a report had been entered into the system.
After the counter-demonstrators left, the remaining protesters sat on the sidewalk and grassy hill outside Midtown Church of Christ and continued to chant "no justice, no peace" and the names of people killed by police officers, at times asking the MPD officers present to cross the street and join them.  
Around 9:45 p.m., the crowd had swelled to more than 100 and protesters started moving west on Union Avenue to avoid the police barricades, led by Barbara Buress, also known as The Lil Dreadheaded Activist. MPD cruisers followed the protesters down the street. 
After silently standing dressed in riot gear on the fringes of the protest, the Memphis police department brought out barricades and placed them between its officers and protesters around 12:20 a.m. Before the barricades were placed, protesters had been lined up in front of the officers with their hands up, alternating between saying "hands up, don't shoot" and "no justice, no peace." About 75 people were actively protesting.
Moments after the barricades went up, many of the protesters started to back away and spread farther across the parking lot.
Memphis police officers began leaving the scene around 1 a.m. as the protest ended.
McClatchy-Tribune News Service