Gunman who shot CHP officer, hostages initially wanted for questioning in earlier shooting
Eric Abril was initially sought for questioning about an earlier freeway shooting
---
By Associated Press
ROSEVILLE, Calif. — The gunman who shot a California Highway Patrol officer and two hostages, killing one, in a public park was initially wanted for questioning in connection with a freeway shooting, police said Friday.
The violence unfolded Thursday afternoon as CHP officers tried to serve a search warrant on Eric Abril in Roseville while families played nearby at baseball fields and children attended camp.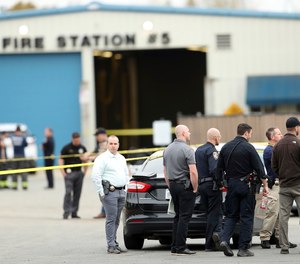 Amid the chaos, Abril took two hostages — identified Friday as a married couple — in the city of about 150,000 northeast of Sacramento. James MacEgan was killed in the shooting and his spouse was injured, Roseville police said.
The injured CHP officer, whose name was also not disclosed, has since been released from medical care. Abril, however, remained hospitalized Friday with a gunshot wound, Roseville police said.
Although investigators believe Abril was the gunman in an earlier freeway shooting in Sacramento County, CHP Officer Ricardo Ortiz said Friday that there was no warrant out for Abril's arrest.
At the time, the officers only had search warrants for his home and car. Ortiz said they just planned to question him on Thursday. Ortiz did not have details about the freeway shooting, such as when and where it occurred.
Ortiz also said he did not know how the CHP officers found Abril near the suburban Mahany Park and why they approached him while families and children were close by.
"The loss of life is of course a tragedy," Ortiz said Friday. "I can't speak on behalf of the officers that were there and went through the situation, and why they did what they did. That's not something I can comment on."