LA County Sheriff: Sergeant was 'executed' by gunman
A gunman who killed Sgt. Steve Owen first wounded him, then stood over him and fired four additional rounds
---
By Joseph Serna and Nicole Santa Cruz
Los Angeles Times
LOS ANGELES — A gunman who killed a Los Angeles County sheriff's sergeant in Lancaster on Wednesday first wounded him, then stood over him and fired four additional rounds into the lawman's body, Sheriff Jim McDonnell said Thursday.
"This was a calculated execution," the sheriff said.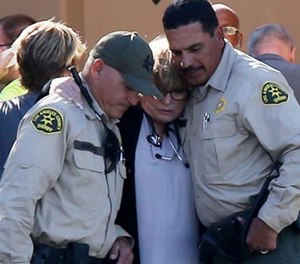 The gunman was carrying a stolen weapon and after the shooting unsuccessfully searched Sgt. Steve Owen's body for his handgun "with the intent to use it to murder" another deputy who was arriving to the scene, McDonnell said.
Authorities identified the gunman as Trenton Trevon Lovell, a 27-year-old, of Lancaster with a long criminal record.
McDonnell, who refused to speak the suspect's name, said the department first came into contact with him when he was selling marijuana as a juvenile. He was arrested 11 times, including two occasions that resulted in state prison time, the sheriff said.
At a news conference Thursday afternoon, McDonnell said it was time for a serious conversation about policies he blamed for allowing the gunman to cycle in and out of custody for years.
Lovell surrendered following a dramatic manhunt in which he tried to steal Owen's cruiser and used it to ram another deputy, then ran into a nearby home, where he took two teenagers hostage.
"Here was a guy -- a parolee who was classified as moderate risk," he said. "Yesterday he was parolee walking our streets with a stolen gun. Today he is facing charges of murdering a peace officer."
McDonnell spoke after an outpouring of praise for Owen in the Antelope Valley community.
Many mourners gathered Thursday at the Lancaster sheriff's station to pay their respects to a sergeant whom one resident described as "one of the good ones."
Just before 8 a.m., Bishop Vaughn stopped at the station to offer prayers for the fallen sergeant.
His first encounter with Owen wasn't ideal. It was about eight years ago and the sergeant had arrested him.
"That's how long we've been together, partners," Vaughn said. "He brought me a long way."
Vaughn now stays at a mental health facility not far from the station.
But he thinks often of Owen, who he said served as a mentor and a father figure.
"This guy, when I was in trouble, kept me straight," Vaughn said.
The night before, hundreds huddled near the entrance to the station to memorialize a lawman, a volunteer football coach, a community presence.
Deputies stood with tearful eyes. As the vigil ended, the crowd sang "Amazing Grace."
Earlier Wednesday, Owen, a 29-year department veteran, had responded to a seemingly routine burglary call at an apartment building in the 3200 block of West Avenue J-7.
Maria Azuela, 33, had called officers to her home after a loud noise drew her downstairs, where she spotted a broken glass door.
She ran back upstairs to her bedroom where she waited with her 7-month-old baby. Moments later, she heard gunshots. From her bedroom window, Azuela saw a deputy lying on his stomach, motionless. It was Owen.
Another deputy who was at the front of the building ran toward the sound of the gunfire and found the wounded sergeant.
The gunman, meanwhile, ran to the front of the building and jumped into Owen's patrol car. The deputy returned from the back of the building and opened fire on the stolen cruiser. The gunman threw the car into reverse and rammed a second patrol car, which struck the deputy and injured him, authorities said.
After the collision, the gunman jumped out of the cruiser and fled. He ran into a nearby home where two teenagers were inside. One teen was able to send a text message to alert authorities, Capt. Steve Katz said.
Sheriff's SWAT deputies entered the home and rescued the teens, who were unharmed.
The man fled through the back, where he hopped a wall, Capt. Jack Ewell said.
Lovell, who was taken into custody, was struck in the upper torso by gunfire at some point during the incident, Katz said.
News of Owen's death stunned residents and law enforcement officers.
"Steve was just the most hands-on, motivated field sergeant that ever worked for me," said Lt. Derrick Alfred, who supervised Owen. "He was just a real hands-on street cop."
Owen's presence was noted at community events, such as toy drives and PTA meetings, and liked engaging with youth, said Darren Parker, former president of the L.A. County human relations commission and a civil rights activist.
"He truly believed in people," Parker said.
Raj Malhi, a city councilman, called Owen "one of the bravest guys I've ever known."
Malhi said that Owen was known for being calm in tough situations and was well-respected in the area. The two had recently made plans to attend a fallen hero event on Sunday.
Sitting on a bench outside the front doors of the station Thursday with tears in his eyes, Randy Johnson Jr., 29, of Lancaster said he first met Owen about 13 years ago when he was a junior at Antelope Valley High School.
Owen pulled him over, searched him and found marijuana, Johnson said. The two chatted while Johnson was in the back of the police car.
"I kind of told him my life story and that I had no one," Johnson said.
Johnson described what Owen did next.
"He let me know he'd take care of me," Johnson said. "He said he could take me to school every day and bring me lunch if I needed."
Over time, Johnson's one pair of shoes got worn down to the point where they had holes in them, and he said people at school made fun of him for it.
He called Owen and asked if he could get him a pair of shoes. The next day when Johnson got out of school, Owen was there waiting with a new pair of Nikes.
"I'm only here because of him," said Johnson, who now has a wife and two kids and works at an auto body shop. "That man is super cop. He'd do anything for you, your community and your kids. A damn good man."
Johnson pointed to the row of candles, American flags, balloons and flowers piling up in front of the sheriff's station. "It speaks for itself," he said.
McClatchy-Tribune News Service