London officer shot dead inside police station
After shooting the officer, the 23-year-old suspect shot himself and remains in critical condition, officials said
---
By Suzie Ziegler 
LONDON — A homicide investigation is underway after a London police officer was shot and killed early Friday inside a police station, according to The Guardian. 
The sergeant, who has not been named, was allegedly shot by a 23-year-old man who was being detained at the time. According to the Guardian, the alleged gunman then shot himself and remains in critical condition as of Friday. It remains unclear why the suspect was arrested.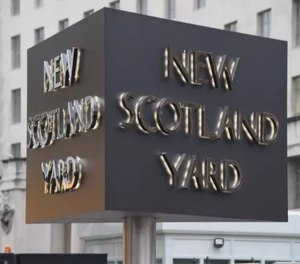 Paramedics treated the officer at the scene and he later died at a hospital.
City and national officials expressed their shock and gave condolences to the officer's family. 
British Prime Minister Boris Johnson tweeted, "My deepest condolences go to the family, friends and colleagues of the police officer who was killed in Croydon [overnight]. We owe a huge debt to those who risk their own lives to keep us safe." 
The Metropolitan Police commissioner, Cressida Dick, led tributes in honor of the officer. 
"The Met is a family. Policing is a family in London and across the United Kingdom. Today, we police are all mourning a great loss," she said in a statement posted to Twitter. "I have visited and spoken to our officer's partner together with other colleagues, and we are of course giving her the best support we can." 
No police firearms were discharged during the incident, Metropolitan Police said in a statement. 
According to CNN, the last London police officer to be killed in the line of duty was in 2017 when Keith Palmer was stabbed in a terror attack.