Man arrested in Houston police sergeant's shooting death
Police are still searching for another man who's a person of interest
---
By Julian Gill
Houston Chronicle
HOUSTON — A man out on bond for a gun possession charge was arrested Tuesday in the shooting death of HPD Sgt. Sean Rios, as investigators continue to piece together what precipitated the deadly gun battle on Houston's northside.
Robert Soliz, 24, was taken into custody on the Katy Freeway and now faces a murder charge, police said. Case records were not yet available Tuesday night.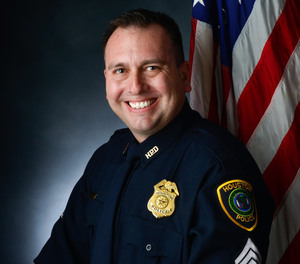 Police also are searching for a second man, only identified as a person of interest, who fled the shooting scene in a black pickup. Newly released surveillance video shows that person talking to Soliz shortly after the killing.
Soliz is accused of shooting Rios around 1:30 p.m. Monday near the Interstate 45 service road at Stuebner Airline. Rios was pronounced dead at a nearby motel, where he sought help.
During a news conference Tuesday, Houston Police Chief Art Acevedo and Mayor Sylvester Turner asked the public to come forward with any information about Soliz or the person of interest. Soliz was uncooperative during initial questioning, Acevedo said, but police believe he may have been involved in a roadway shooting with another driver before Rios' death.
He said there is a "high probability" that Rios, a U.S. Marine veteran, tried to intervene.
"Understanding Sgt. Rios' reputation... he doesn't turn the other cheek," Acevedo said. "He doesn't put on the blinders. If he saw something, he is going to act."
Soliz's attorney, Paul Looney, said he would address "issues in this case that are not what they seem" during a news conference at 4 p.m. Wednesday at his Bellville home. He could not be reached for further comment.
Before the shooting, Rios had been driving his personal vehicle, a Kia Forte, to his 2 p.m. shift at George Bush Intercontinental Airport. He was not in uniform.
Police do not know how he and the suspect ended up at the Stuebner Road intersection, Acevedo said. After the shooting, Rios abandoned his car and staggered with a gunshot wound into the front office of the nearby Taj Inn & Suites. Manager Sid Gandhi heard four loud bangs before he saw the man covered in blood.
"'Help me, help me. Call 911,'" Rios said, according to Ghandi.
The manager took a deep breath and dialed. The 47-year-old police sergeant fell to the ground, unconscious, Ghandi said. His chest was soaked in blood. Paramedics pronounced him dead at the scene.
A search of the area uncovered the suspect's blue Mercedes, which was captured on security cameras. Rios did not have a police radio in his car and could not relay information about his assailants to police, Acevedo said.
He said off-duty officers can intervene in a dangerous situation, when they deem it necessary.
"The truth of the matter is, officers truly are never really off duty," he said. "And that's when an officer has to use judgment... We don't want you to be reckless. We don't want you to be risk averse. We want you to be risk appropriate, so it depends on the totality of the circumstances. And we don't have all the details yet."
Acevedo said Rios did not have a previous relationship with Soliz. He said police reviewed multiple 911 calls indicating that a blue Mercedes, matching the description of Soliz's vehicle, was involved in a shooting with a white pickup shortly before Rios' death. Police said they did not know the identity of the driver of the white pickup.
Soliz was arrested around 3 p.m. with Rios' handcuffs during a felony traffic stop on the Katy Freeway at Sam Houston Parkway.
Police know of two incidents over the past month where Soliz is suspected in assaults with firearms related to road rage in the Houston area, Acevedo said. He could face additional charges in those cases, he added.
The chief said Soliz is a documented gang member. At the time of the slaying, he was out on a $100 bond for a February charge of unlawful carrying of a weapon in a motor vehicle, court records show. His next court date in that case is set for Dec. 3 in Harris County Court No. 16.
Records show several previous misdemeanor charges against Soliz dating back to 2014. In January 2018, he pleaded guilty to charges of evading arrest and weapons possession in exchange for a six-month sentence in the Harris County Jail. That following July, he pleaded guilty to a terroristic threat charge and was sentenced to another 90 days in the jail. In that case, he was accused of threatening to kill the mother of his child.
Acevedo declined to release details about Soliz's relationship with the person of interest. A 30-second video clip from a surveillance camera shows the two men talking in what appears to be a parking lot after the killing. In the video, the person of interest gestures with his hands, apparently mimicking a person shooting a gun. Police noted that at least one wheel on the person of interest's truck did not match the others.
Rios, a 47-year-old father of four, was a 25-year veteran of the Houston Police Department. He is the fourth Houston peace officer killed in the line of duty this year.
His children range in age from 9 to 17. One of them played a football game Monday in Willis, and two members of the department's command staff were there to cheer him on.
"He wanted to go to school today... so we didn't want him to be alone," Acevedo said through tears at the press conference. "We wanted him to have his commander and his chief stand in place of his father watching him play."
He said more police officers' would have attended if they had not been close to an arrest. Police hope to have a memorial service for Rios on Monday, he said. The department will release more specific information later, he said.
Police are asking anyone with information about the case to contact HPD's Homicide Division at 713-308-3600 or Crime Stoppers at 713-222-TIPS.
(c)2020 the Houston Chronicle
McClatchy-Tribune News Service