More than 200 police chiefs criticize Trump's 'law and order' executive actions
They argued that Trump's approach could result in more dangerous communities and is a waste of federal resources
---
By Police1 Staff
President Donald Trump signed a series of executive orders last week aimed at reducing crime and drug trafficking and protecting law enforcement. But a group of current and veteran law enforcement leaders say that his approach could be a potential waste of federal resources and make communities more dangerous. 
Business Insider reported that Law Enforcement Leaders to Reduce Incarceration, consisting of former Dallas Police Chief David Brown and Former Superintendent and Police Chief Ronal Serpas, said today's policies "too often rely only on jail and prison, are simply ineffective in preserving public safety."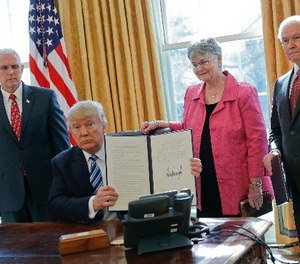 One executive order sets out to define new federal crimes, and increase penalties for existing ones, to further protect officers from violence. Another focuses on the creation of a task force to reduce violent crime, and a third aims to dismantle international drug cartels, the Associated Press reported.
In the 28-page agenda, the leaders asked the Trump administration to focus on reducing the overcrowded prison population with alternative sentences. They stated that better support for inmates reduces repeat offenses. 
The group wants Trump to focus more on policies that target violent crime specifically, saying that focusing on arresting people and not directing resources toward the correct initiatives is a waste of taxpayers' dollars.
The agenda addresses the lack of community policing focus in the executive orders. The leaders said by improving community policing, crime and tensions between police and their communities are reduced. 
"We must instead consider those policies that better preserve public safety," the agenda states. "Dangerous, violent offenders should be behind bars, but incarceration is not necessarily the best
tool to put non-violent offenders back on the road to productive, law-abiding lives."
Attorney General Jeff Sessions said at his confirmation hearing last month the administration is committed to representing law-and-order interests. 
"Protecting the people of this country from crime, and especially from violent crime, is the high calling of the men and women of the Department of Justice. Today, I am afraid, that has become more important than ever," Sessions said.