Police: NYC man who tried to strangle cop has history of assaulting LEOs
Officer Gregory Reisert was knocked to the ground and suffered injuries to his neck and back
---
By Thomas Tracy
New York Daily News
NEW YORK — A homeless protester who tried to strangle an NYPD police officer with a metal chain during a wild protest through Manhattan was previously arrested for attacking cops in Florida, according to law enforcement sources.
Levon Wheeler's criminal history came to light just as he was held on $50,000 cash bail Friday for felony assault and weapons possession for attacking a cop near Bond St. and Broadway.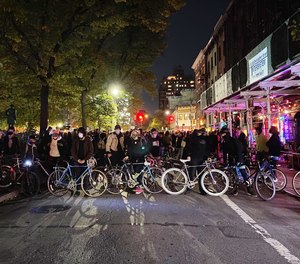 Wheeler, 31 — who also goes by Antonio Webber — was accused of knocking Police Officer Gregory Reisert to the ground Thursday night and trying to choke the cop with a chain, according to court papers.
Wheeler had the chain dangling off of his neck when he decided to use it as a weapon, police said.
"I observed (Wheeler) on top of me, while my back was on the ground, attempting to place a heavy metal chain across my neck," Officer Reisert told prosecutors. "(He) refused to get off of me until other police officers pulled (him) off."
Reisert suffered injuries to his neck, shoulder and back as he struggled with Wheeler, prosecutors said.
Police posted a photo of the recovered chain on social media.
Last February, Wheeler was charged for assaulting two officers in Orlando, Fla., sources said.
He was charged with battery on a police officer and resisting arrest. An email to the Florida state attorney for Orange County was not immediately returned.
[READ: Why this is a time for tried and true team tactics]
Wheeler also did four years in prison for punching a worker at Paragon Sports in Chelsea while trying to leave the store with a pair of boxing gloves stowed into his pants, officials said. He was released from prison in July 2019, according to court records.
A total of nineteen people were taken into custody during Thursday night's protest march from the Stonewall Inn through Lower Manhattan.
Ten people received desk appearance tickets for a variety of misdemeanor crimes, meaning they will have to answer the charges in court at a later date. Another eight people received summonses.
Wheeler, who lives at a psychiatric shelter on Ward's Island, was the only one taken to court.
Just one person was given a summons for disorderly conduct at an election rally Friday night at Washington Square Park.
Tonight, while performing their duties near Bond St & Broadway in Manhattan, an officer was pushed to the ground & had this chain pressed against his throat. The suspect was apprehended & will be charged with assault, criminal possession of a weapon & attempted strangulation. pic.twitter.com/QuWAosMAAP

— NYPD NEWS (@NYPDnews) November 6, 2020
(c)2020 New York Daily News
McClatchy-Tribune News Service