Rand Paul says 9/11 Victim Compensation Fund price tag too high, blocks fast track request
Sen. Rand Paul is balking at the $10 billion price tag for the 9/11 Victim Compensation Fund
---
By Michael McAuliff
New York Daily News
WASHINGTON — Sen. Rand Paul is balking at the $10 billion price tag for the 9/11 Victim Compensation Fund.
The Kentucky Republican derailed a request on Wednesday by Sen. Kirsten Gillibrand, D-N.Y., to fast track the bill that would permanently fund compensation for sick and dying 9/11 responders and victims because the cost was too high.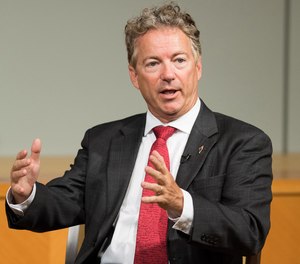 "We're adding debt at about a trillion dollars a year," Paul said in stopping the request.
"Any new spending we are approaching, any new program that's going to have the longevity of 70, 80 years should be offset by cutting spending that's less valuable," he said. "We need to at very least to have this debate."
The $10.2 billion measure passed the House last week with an overwhelming vote of 402 to 12. It did not have any provisions to off-set the cost — a fact that some lawmakers there noted, although it was not reason enough for them to oppose the bill.
Gillibrand's request would have sent the bill directly to the president, ending nearly 18 years of uncertainty for people who rushed to the devastation of Ground Zero or lived and worked among the dust and smoke.
"I am deeply disappointed," said Gillibrand, pointing the vote in the House and the 74 senators who back the bill.
"Enough of the political games," she said. "Our 9/11 first responders and the entire nation are watching to see if this body actually cares. Do we care about the m3en and women who answered the call of duty when our country was attacked?"
Paul's objection is unlikely to kill the bill. Numerous responders and advocates who have been pushing for the legislation told the New York Daily News that Senate Majority Leader Mitch McConnell — the senior senator from Kentucky — is solidly behind the bill.
"It's my understanding that Sen. McConnell and his staff are working hard to get the house-passed bill onto the floor as quickly as he can," said Ben Chevat, who runs the group Citizens for the Extension of the James Zadroga Act.
The measure was originally named for Zadroga after the New York Police Department detective died in 2006 from the dust and toxins that destroyed his lungs. The names of late Firefighter Ray Pfeifer and late Detective Luis Alvarez have also been added to the bill. Both were advocates before they died of 9/11-linked cancer, and Alvarez galvanized momentum behind the new bill when he testified in June about the illness that left him visibly ravaged and exhausted. The responders gave McConnell Alvarez's badge.
McConnell had not been an avid supporter before, but after responders presented him with their tragic gift, as Alvarez lay dying, he got behind the bill.
Another possible last-minute opponent of the legislation, Sen. Mike Lee, R-Utah, did not join Paul in blocking it Wednesday, but word leaking out that he had reservations infuriated responders.
John Feal, head of the FealGood Foundation 9/11 advocacy group, hammered Lee on Facebook Wednesday morning. Responders had met with Lee's staff, and emerged from the meeting telling the Daily News that Lee's top counsel, Phil Alito, promised that Lee would not stand in the way. He trained his fire on the Kentuckian Wednesday.
"Rand Paul is as unpatriotic as Mike Lee. More importantly Sen. Paul is a doctor who took an oath just as he did as a senator," Feal said. "And he failed miserably at both."
A spokesman for Lee said he remained committed to passing the bill by August, but did not elaborate on his objections.
One responder who met Lee earlier this month to get a "Freedom Award" from a conservative group in Utah was willing to grant him a little leeway. Tommy Asher — one of the rescuers featured in a film about the last two survivors of the twin towers' collapse — told the Daily News that Lee pledged "1,000%" support for responders.
He said Lee's office told him Wednesday that the senator still supports the bill, although he has not signed on as a sponsor. He was merely taking more time to be sure there was not "corruption" related to the measure. The Victim Compensation Fund has been overseen by the Justice Department since 2010.
"All I know is I'm OK with anybody's support. If he decides that he's looking into it a little deeper, that's his prerogative," Asher said.
But he still expects a yes vote, and soon.
"If he says 'Nay,' that's on his conscience, not mine. He's promised me that we have his full backing," Asher said.
Other responders ripped Paul on social media, noting that he is an annual tweeter on the anniversary of Sept. 11.
Serra included Paul's most recent yearly homage to responders.
"Our nation suffered a tremendous loss on #September11th 2001. #NeverForget the families and loved ones lost or the soldiers that lost their lives defending our country after," Paul tweeted in 2018.
McConnell has already put the 9/11 bill on the Senate's calendar, and with nearly three-quarters of the Senate already backing the measure, it seemed likely to pass, but it will take a little longer.
The compensation fund is running out of money well before its current expiration date of 2020. The fund master has cut compensation payments by 50 and 70%. Hundreds of slashed awards have already gone out to widows and ailing survivors.
Senate Minority Leader Chuck Schumer said Paul's objections were misplaced when ill and dying responders are waiting to be made whole.
"You can come up with 10,000 reasons not to do something but you shouldn't come up with any reason not to do something noble and right," Schumer said.
Paul's office said later that he was not blocking the bill by objecting to its passage.
"Senator Paul is not blocking anything. He is simply seeking to pay for it. As with any bill, Senator Paul always believes it needs to be paid for. Senator Paul is simply offering an amendment, which other senators support, to pay for this legislation."
©2019 New York Daily News
McClatchy-Tribune News Service