The value of a good helmet
The Ballistic Helmet ATE from Hard Head Veterans is an affordable investment in officer safety
---
Over the years, I have witnessed more and more evidence supporting the need for quality protective gear in law enforcement. Depending on an officer's assignment, it could make the difference between life and death.  
Recently, I got the opportunity to check out a stellar helmet from Hard Head Veterans and I'm glad I did.  This year I've been haunted by one graphic example that rang out with more significance than most. 
It was a year of discontent. The pandemic created a social pressure-cooker – unpopular health department mandates, lockdowns and unemployment, on top of some of the most politically divided times our country had seen in recent memory. Riots erupted and the brave men and women of law enforcement worked to hold the line. 
The news and social media provided 24/7 coverage of how bad things were. One night in Seattle, a unit of bicycle officers was moving down a crowded street when the last officer was knocked down. Quickly getting to his feet, he unleashed pepper spray on the crowd closing around him but could not see the suspect approaching from behind. With a couple of measured steps, the suspect raised and swung a metal baseball bat full force, striking the officer in the back of the head with an audible crack. 
The officer kept moving, recovered his bike and got back to the troops down the street. I was struck with the sickening significance of the attack and what it revealed about where our society was at the time. 
Pragmatically, I couldn't help but marvel at the level of protection offered by the helmet. Officer Jose Jimenez avoided serious injury but the helmet cracked under the powerful blow.  
VIDEO shows violent rioter hitting Seattle Police officer in the head with a metal baseball bat, as Seattle Police Officers came under attack Wednesday night in Seattle's Capitol Hill neighborhood during riot. pic.twitter.com/FN7tvfE1tI

— Preston Phillips (@PrestonTVNews) September 24, 2020
Hard Head Veterans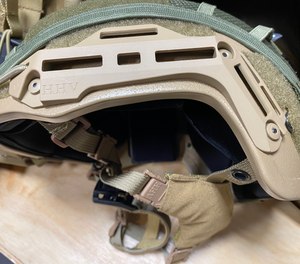 As the name plainly states, this company is a veteran-owned and operated small business with members still serving through reserves, contracting, or law enforcement roles.  
These guys know about helmets. I was recently fortunate to test out the HHV ATE GEN 2 Ballistic Helmet, which comes in four different sizes and five different colors. Made in part from para-aramid fibers, the ATE Gen 2 is NIJ Level IIIA rated and has a high cut design to allow use with ear protection. Above the ear cuts are M-LOK helmet accessory rails that allow the user great flexibility for mounting accessories.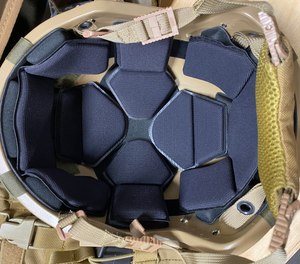 The M-LOK rails will accept Picatinny sections or direct mount accessories compatible with M-LOK. This means you can stack up ear pro, lights, cameras, or whatever fits your mission parameters. Though accessory weight can add up quickly, the ATE only starts out at 3 pounds. It is also equipped with an A3S Shroud up front manufactured from aircraft-grade aluminum, keeping it light and strong. The A3S is capable of accepting most NVG mount and is equipped with bungees to help minimize wobble. 
Inside, the ATE features a dual pad system consisting of an initial impact layer of padding. This is already installed when the helmet is received. Users can then install the second layer called the comfort pad layer with an adhesive-backed hook and loop. Different sizes of both sets of pads are included for absolute adjustability to the user's preference.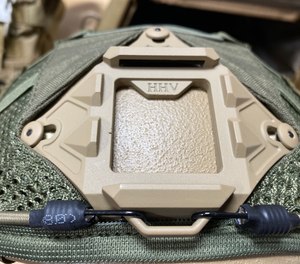 Finally, the chin strap is supremely adjustable with multiple sliding buckles that lock into place when the right length is achieved. In addition, the chin strap buckle is magnetic and has a hanging strap that is still easy to remove while wearing gloves but won't come off until you want it to. The right side of the chin strap was designed to remain free of encumbering hardware that would prevent a proper cheek weld. 
Affordable quality 
I wore an ATE several times during testing and found it to be surprisingly lightweight and comfortable. You have to keep in mind my experience with helmets has been primarily old military version of whatever my agency had for SWAT operations at the time. The ATE is advanced, lightweight, durable, comes with a 10-year warranty and is more comfortable than anything I've worn previously.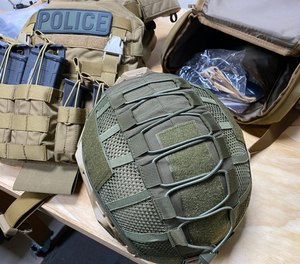 One of the most impressive things about the ATE is the price: $485.00 is cheap insurance. There is a lead time of a few weeks for one to be built to your specifications, but the level of protection makes you feel great without breaking the bank to do it.   
In addition, the HHV website is a treasure trove of information, a true resource for those seeking information in this critical area. The company even includes information on competitors, which I find to be surprisingly rare. Tools like a helmet weight calculator allow you to add accessories and learn how much your final product might weigh. 
There is also a 3-D configurator, which allows you to set up your helmet with a 3-D model and see exactly how it will look with whatever accessories you want to add. Several tutorial videos can be found on the website to help you set up and fit your helmet as well. HHV also has accessories for their multiple helmets such as covers, bags, counterweights (for NVGs) and so much more.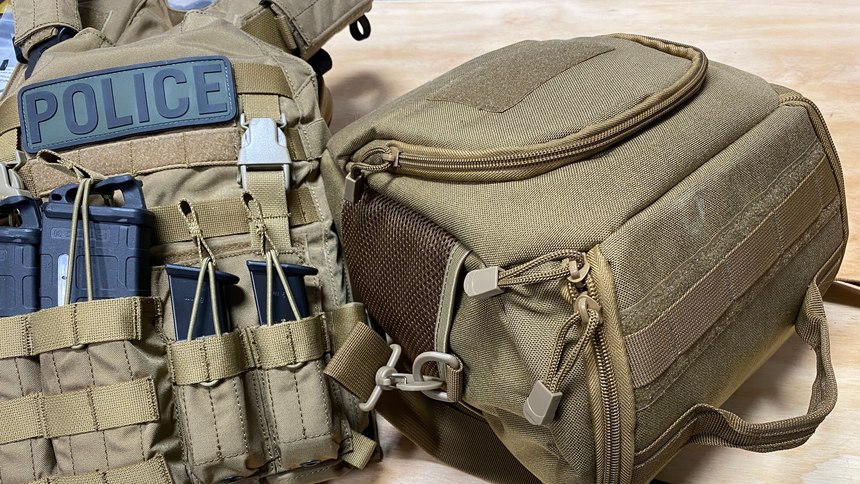 Buckle up! 
I have a feeling things are going to get worse for law enforcement before the pendulum swings the other way. We are going to bear the brunt of an entire society's anger displacement for some time so gear up, stay fit and be ready. The cost of the ATE makes bulk purchases feasible for agencies that can afford them.  But even for departments that cannot afford helmets for all personnel, the ATE is low enough in cost that officers may choose to pick them up personally. It is a good investment. 
According to detectives investigating the case in Seattle, the rioter who assaulted Officer Jimenez with the baseball bat texted a compatriot stating "…I'm proud too, hehe. Wish he didn't have a helmet on, lol." Get a good helmet folks, and stay safe.