Wash. officer shot in head will 'most likely' be blind
Officer Mike McClaughry's family said he will most likely be blind as a result of his injuries
---
By Police1 Staff
MOUNT VERNON, Wash. — An officer who was shot in the head while on patrol in December will "most likely" be blind, his daughter said in a Facebook post.
Officer Mike McClaughry, who has been hospitalized since the shooting, was showing signs of recovery, but his family said doctors are certain he is blind.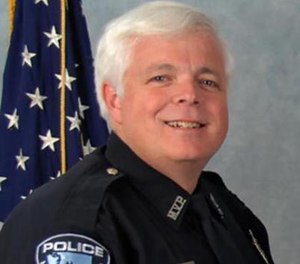 "The neurosurgeon that has been there from the start though says that we really still don't know until he is conscious enough to have a conversation and tell us what he sees, if anything," the post reads. "My mother asked him once if he could see light and he said "yes", she then asked him if he could see her and he didn't have a response." 
His daughter has set up a GoFundMe page to help with the family's financial needs.
McClaughry, 61, was investigating a reported shooting when he was shot in the head by Ernesto Lee Rivas. 
Rivas, an alleged gang member, reportedly shot a rival gang member earlier in the day. After a standoff with police, Rivas was taken into custody and is held on $1 million bail, according to the Associated Press. 
Two teenagers, ages 15 and 16, who were in the house during the standoff, were arrested and charged as well.
No other officers were injured in the standoff.