Wis. communities, families mourn officers fatally shot during traffic stop
Officer Hunter Scheel was in the Army National Guard and volunteered for Afghanistan, and Officer Emily Breidenbach was engaged to be married
---
By Audrey Korte
The Chippewa Herald
CAMERON, Wis. — Police officers and family members from Chetek and Cameron gathered early Monday to pay their respects as the bodies of their fallen colleagues were transported from Barron County to Minnesota for autopsies.
On Saturday, Chetek Police Department officer Emily Breidenbach and Cameron Police Department officer Hunter Scheel were killed during a traffic stop that escalated into a shootout.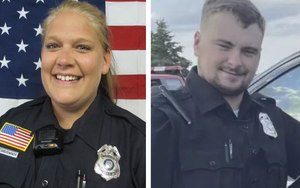 The Wisconsin Department of Justice Division of Criminal Investigation, which is investigating the incident, identified the driver of the vehicle as Glenn D. Perry, 50. Perry was transported from the scene by ambulance to a hospital where he later died.
The bodies of Breidenbach and Sheel were taken to Minnesota for autopsies as part of the ongoing investigation into the incident.
Camryn Gosdeck shared on Facebook: "It is with a heavy heart to share that my love, my soulmate, and my best friend made the ultimate sacrifice doing exactly what he was meant to do, help others. Hunter Timothy Scheel meant so much to so many people and left anyone he encountered with a laugh and a smile."
Gosdeck said Scheel also served in the Army National Guard and volunteered to serve in Afghanistan.
"I am absolutely heartbroken and never knew I could feel such an immense pain as having my other half ripped from me. My heart hurts for him, for his family and anyone who had the pleasure of knowing him," Gosdeck said. "Please keep Hunter and the Chetek officer and their families in your thoughts and prayers. Please thank your first responders and veterans when you see them. Please hug your loved ones tight. And please show kindness in every encounter you have."
Emily Breidenbach was engaged to be married and was the daughter of former Chetek Police Chief Robert Breidenbach. Chetek Police Chief Ron Ambrozaitis said Breidenbach was the department's K9 therapy dog handler and had been with the force since 2019.
"Our love and condolences go out to both families and all those with whom they served," Ambrozaitis said. "We, as a law enforcement family, will do everything possible to continue to provide support and comfort to Hunter and Emily's families. They will be missed by everyone."
"Many in Pardeeville may remember former Police Chief Robert Breidenbach," the Pardeeville Fire Department wrote on Facebook. "Our thoughts are with the Breidenbach family, the family of the other fallen officer involved, and all of our law enforcement brothers and sisters who put it all on the line everyday they wear the uniform."
"Emily Ann I've known you since you were ten when my pops (Tim) married your mom. You have always been a shining beckon of light," Karen Yonke posted on Facebook. "You have always lived life with such adventure and treated everyone around you with dignity and respect. From the silly vibrant 10-year-old to the girl who made a stand in high school to shave her head to the beautiful woman you were. You will be remembered and thought of daily. Every time I hear a bike pass my house I will remember. Mama Sue and all who know Emily, I am truly sorry for all of our loss."
Authorities said Perry, the suspect in the vehicle, had a warrant for his arrest and police had received a report about "concerning behavior." According to online court records, he had a limited criminal history. He was convicted of two misdemeanor cases from 2020 in Barron County involving disorderly conduct. His most recent address was listed as New Auburn.
According to a DOJ press release, at 3:38 p.m. Saturday, Breidenbach stopped a vehicle in the village of Cameron and gunfire was exchanged. Breidenbach and Scheel both were hit by gunfire and pronounced dead at the scene. The suspect from the incident was taken to a hospital, where they later died.
The location of the shooting on County Highway SS is the main road between Cameron and Chetek.
DCI is leading the investigation and is assisted by the Barron County Sheriff's Office, Rusk County Sheriff's Office, Wisconsin Department of Natural Resources, Wisconsin State Patrol and Wisconsin State Crime Lab.
DCI will provide reports to the Barron County district attorney for review at the conclusion of its investigation.
(c)2023 The Chippewa Herald, Chippewa Falls, Wisc.
Visit The Chippewa Herald, Chippewa Falls, Wisc. at www.chippewa.com
Distributed by Tribune Content Agency, LLC.
McClatchy-Tribune News Service