Hearing set for officer appealing firing in fatal OIS of Alton Sterling
Blane Salamoni was fired less than a week after Louisiana's attorney general ruled out state criminal charges in Alton Sterling's July 2016 shooting death
---
Associated Press
BATON ROUGE, La. — A civil service board has scheduled a November hearing for a former police officer appealing his firing nearly two years after he shot and killed a man during a videotaped struggle outside a Baton Rouge convenience store.
The Advocate reports the board set Blane Salamoni's hearing date during a meeting Thursday.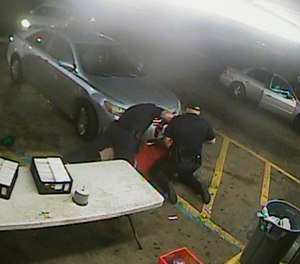 Police Chief Murphy Paul fired Salamoni in March, less than a week after Louisiana's attorney general ruled out state criminal charges in Alton Sterling's July 2016 shooting death.
Salamoni shot Sterling six times after he and a second officer, Howie Lake II, wrestled the 37-year-old man to the ground. Lake shocked Sterling twice with a stun gun but didn't fire his firearm that night.
Lake appealed his three-day suspension and has a separate hearing scheduled for October.