La. deputy shot in ambush while directing traffic
36-year-old sheriff's deputy was shot multiple times while directing traffic in a school zone
---
Associated Press
PARADIS, La. — A Louisiana sheriff says the man suspected of shooting one of his deputies three times in a school zone is a fired Transportation Safety Administration officer.
St. Charles Parish Sheriff Greg Champagne identifies the suspect as 58-year-old John Paul Devillier, currently of Gulfport, Mississippi.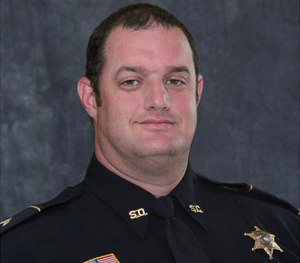 Devillier was captured shortly after 36-year-old Cpl. Burt Hazeltine was shot.
Hazeltine remained in stable but guarded condition at a New Orleans hospital Thursday afternoon. He was shot in the eye, chest and elbow.
Authorities believe Devillier had become angry after being unable to make a left turn in heavy traffic on U.S. Highway 90 in Paradis, about 25 miles west of New Orleans.
Devillier left the scene after exchanging words with Hazeltine. Champagne says Devillier returned soon afterward and fired from inside his pickup truck as Hazeltine approached.
Deputies near suspects silver truck. Investigators say he ambushed St Charles Dep. working school detail @FOX8NOLA pic.twitter.com/UccyORs9ij

— Rob Krieger (@Rob_Krieger) April 16, 2015
Copyright 2015 The Associated Press