La. officer wounded in shopping center shooting 'fighting for his life'
Sgt. Scott Sterling said that, even though Cpl. Shawn Kelly was assigned to the department's traffic unit, Kelly had offered to take the call
---
By Elyse Carmosino
The Times-Picayune | The New Orleans Advocate
DENHAM SPRINGS, La. —The Denham Springs police officer critically wounded in a shooting at a local shopping center Thursday evening had volunteered to go to the scene even though it wasn't his role, the Denham Springs Police Department said.
In a statement Friday morning, DSPD spokesman Sgt. Scott Sterling called Corporal Shawn Kelly a "lifetime public servant," and said that, despite the fact he was assigned to the department's traffic unit, Kelly had offered to take the call when it came in around 4:30 p.m.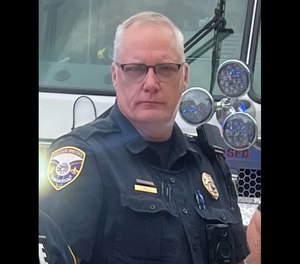 He's "the type of officer who wants to respond to every call and help every person he can reach, which is why he was even where he was yesterday afternoon," Sterling said.
Kelly was one of multiple officers who responded to calls about an argument between a man and a woman in the parking lot outside Petco at the Spring Park Plaza shopping mall just off I-12 Thursday evening, law enforcement officials said.
When police arrived, the man, identified by the Livingston Parish Sheriff's Office as 30-year-old Justin Roberts of Denham Springs, reportedly began to fire at them, striking Kelly multiple times.
Officials say Roberts attempted to flee the scene toward Highway 190 but was quickly stopped by Livingston Sheriff's deputies. The department said Roberts approached the deputies while brandishing a gun, leading deputies to shoot him.
Roberts was rushed to the hospital but died a few hours later, officials said.
A video circulating on social media taken soon after the shooting shows officers performing CPR on Kelly before he was taken to a hospital.
Kelly began his career in 1994 with the Louisiana Department of Corrections and other state agencies before joining DSPD in 2019, where he is a taser instructor and field training officer, Sterling said.
He added that Kelly has received "multiple commendations for his generous ways and positive attitude."
Dozens of law enforcement officers and others lined up for a blood drive for Kelly at Our Lady of the Lake Hospital early Friday.
"We're all here to support Shawn," Sterling said as he sat to give blood.
Sydney McCullough, a coworker of Kelly, wiped away tears in line to give blood while laughing about how she calls him the "old man of the group."
"A 50-year-old cop! He always made everybody laugh. He's just a heck of a guy, cop, friend," McCullough said.
Staff writer Rebecca Holland contributed to this report.
___
(c)2023 The Times-Picayune | The New Orleans Advocate
Visit The Times-Picayune | The New Orleans Advocate at www.nola.com
Distributed by Tribune Content Agency, LLC.
McClatchy-Tribune News Service