La. trooper shot; suspect killed in gunfire exchange
Police stopped a suspected stolen vehicle when 3 men exited and opened fire
---
By Della Hasselle
The Advocate
NEW ORLEANS — One man was shot to death and two others were being sought after a state trooper was shot in the arm Sunday afternoon in the 7th Ward, New Orleans police said.
Around 3:30 p.m., State Police stopped a suspected stolen vehicle at Law and New Orleans streets, police said in a news release.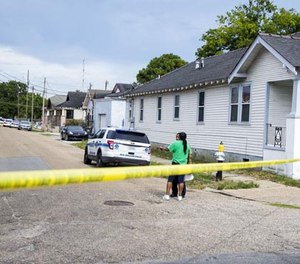 Three men exited the vehicle, and one of the suspects and a State Police trooper exchanged gunfire. The trooper was struck in the arm, police said. He was transported to University Medical Center and is listed in stable condition.
The three suspects fled the area on foot, and a joint search between NOPD and State Police ensued. One of the suspects began firing at officers, and NOPD and State Police officers returned fire and struck the suspect, who later died at the scene.
At 8:30 p.m., the other two suspects remained at large.
Earlier Sunday, police set up a perimeter around the six-block area bounded by Duels, North Dorgenois, New Orleans and Annette streets. Later, they extended the search farther north to Industry Street.
A special operations truck was stopped on New Orleans Street between Hope and Law streets about 6:30 p.m., and officers were out with shields.
At least 25 police cars were at the scene about 5 p.m. along with SWAT teams and special unit trucks. Armed officers and a police dog were checking houses.
Officers asked residents in the area to stay in their homes.
Resident Cynthia Feist, 48, who said she was at New Orleans and Duels streets when shots rang out, said she saw police and a man in a light green shirt exchange shots along Duels between New Orleans and Allen streets.
Feist said she heard six or seven shots, then another 10 around the corner on New Orleans Street and then another 15.
"This is a little over the top," she said.
McClatchy-Tribune News Service