Lawmaker calls for death penalty after Mass. LEO's death
Rep. Shaunna O'Connell said it's time for the state to send a clear message to anyone who kills a law enforcement officer
---
By Police1 Staff
BOSTON — A Massachusetts sergeant's death has led to one lawmaker calling for the death penalty for anyone who kills law enforcement officers.
CBS Boston reports that Rep. Shaunna O'Connell said it's time for the state to send a clear message to anyone who kills an LEO. The call comes after the death of Sgt. Sean Gannon, who was killed while serving a warrant last week.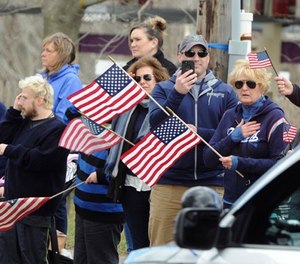 "We're talking about a very small part of the population. Cop killers. The worst criminals among us. If you're going to kill a cop, we need to send a message you're going to face that same fate," O'Connell said.
Gov. Charlie Baker also supports the idea, saying officers put their lives at risk every day. But some Democratic lawmakers oppose re-opening the debate, according to the Associated Press.
"I am personally opposed to the death penalty and I do not foresee Massachusetts reinstating capital punishment," Senate President Harriette Chandler, a Worcester Democrat, said. "That being said, the death of Officer Sean Gannon is a heartbreaking tragedy and I hope that the justice system enacts swift punishment to those responsible."
O'Connell said giving someone life without parole isn't enough punishment and is more dangerous.
"When you kill a cop you go to jail and you're a hero in that prison. It puts the lives of corrections officers in great danger because these people have nothing to lose. They're in for life without parole. What's to stop them from trying to kill a department of corrections officer as well?" O'Connell said.
Brian Kyes, president of the Massachusetts Major City Chiefs of Police Association, said his "knee-jerk" reaction would be to support the death penalty, but added that the association would discuss possible legislation sometime after Gannon's funeral, which was Wednesday.
The state hasn't executed someone since 1947. Lawmakers debated reinstating capital punishment after the 2013 Boston Marathon bombings, but it was ultimately shelved.