Police: Man shot by cops in interview room after pulling out weapon
The man pulled out an "edged weapon" and began hurting himself before Minneapolis LEOs tried to subdue him
---
By Jeff Baenen
Associated Press
MINNEAPOLIS — A man who was alone in an interview room at the Minneapolis police investigative unit in City Hall was shot by officers on Monday after he pulled out an "edged weapon" and began hurting himself.
"After attempting to subdue the adult male subject, officers discharged their weapons," Police Chief Medaria Arradondo said in a statement.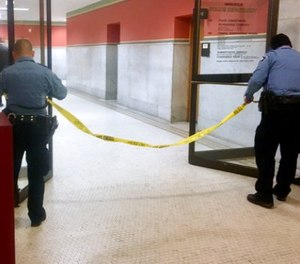 Arradondo said that the man was alone in the interview room late Monday afternoon when he pulled out the weapon. He was taken to a hospital but his condition was not immediately known.
Several officers involved in the incident have been put on standard administrative leave. The wounded man and the officers involved were not identified.
The state Bureau of Criminal Apprehension is investigating the incident. Arradondo says the room where the man was being held has a video system and any evidence will be turned over to the state investigators.