Prosecutor probing fatal shooting of motorist by Ohio campus cop
After the officer stopped him, driver refused to provide a license, had an alcohol bottle and refused to get out
---
By Dan Sewell
Associated Press
CINCINNATI — A prosecutor said Tuesday his office is probing the fatal shooting of a black motorist by a white University of Cincinnati police officer who had stopped him because of a missing license plate.
Hamilton County prosecutor Joe Deters said in a statement that his office is "rapidly investigating" what happened between the motorist and Officer Ray Tensing and that he expects an assessment of the case to be completed by the end of next week.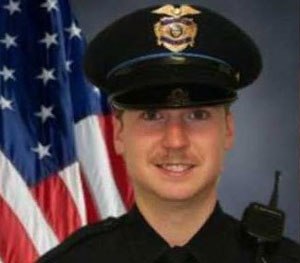 University police Chief Jason Goodrich said earlier that Tensing was at the edge of the campus Sunday evening when he spotted a car missing a front license plate and driven by Samuel Dubose. He said after the officer stopped him, Dubose apparently refused to provide a driver's license, produced an alcohol bottle instead and refused to get out. A struggle ensued, and Tensing fired one shot and was knocked to the ground, Goodrich said.
The car rolled a short distance before stopping. Goodrich said Dubose, 43, had been shot in the head and was dead at the scene.
Dubose's death comes amid several months of national scrutiny of police and their dealings with black suspects, especially those who have been killed by officers.
Tensing's legs were bruised, and his uniform was torn, police said. The officer, who was treated at a hospital and released Sunday night, is on paid administrative leave while the investigation continues.
Messages were left for UC police Tuesday seeking comment on Deters' statement.
Earlier Tuesday, University of Cincinnati President Santa J. Ono offered condolences to Dubose's family and loved ones.
"Our hearts grieve for his loss," Ono said. "We also know that police officers risk their lives every day, and when their efforts to protect themselves and our community result in a death, it is a tragedy. No matter the circumstances, it is a time of unimaginable sadness for all involved."
Cincinnati police are also investigating, and city leaders pledged Tuesday to make sure the case is given a thorough, transparent review.
"This is a serious situation and I will do everything necessary to ensure the investigation is handled as such," City Manager Harry Black said in a statement.
Mayor John Cranley said he has spoken with Deters.
City officials said video from the Sunday evening encounter has been turned over to the prosecutor's office.
Tensing has more than five years of experience in law enforcement and has worked as a University of Cincinnati police officer since April 2014, Goodrich said. An Associated Press review of his UC personnel file didn't indicate any problems in that time.
Copyright 2015 The Associated Press