Sheriff: Md. deputies fatally shot because of uniform
Authorities haven't released a motive, but the sheriff said he believes the first deputy was shot due to his uniform
---
By Juliet Linderman
Associated Press
ABINGDON, Md. — In an emotional address, the Harford County sheriff identified two deputies who were fatally shot in the line of duty, marking the first such tragedy in the small suburban county since 1899.
Sheriff Jeremy Gahler identified the men Thursday as Senior Deputy Patrick Dailey, a 30-year veteran of the department who served in the Marines and as a volunteer firefighter and Senior Deputy Mark Logsdon, a 16-year department veteran who served in the Army. Both were fathers.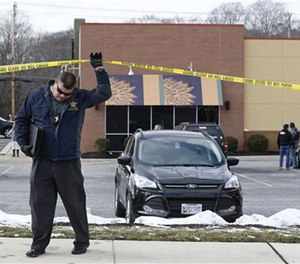 Dailey responded to a call at a crowded restaurant Wednesday and encountered 68-year-old David Evans, who shot him within seconds, the sheriff said. A short time later, Evans was in a shootout with deputies and killed Logsdon. Evans was slain in the shootout.
"To the people who wear this uniform, there are no words," the sheriff said. "These men are heroes. I don't know what else to say. They served this county, they served this country, faithfully and honorably, and lost their lives doing what they love to do."
The initial shooting took place in Abingdon, about 20 minutes northeast of Baltimore. When Dailey arrived, he tried to engage with Evans, who was seated alone and had two outstanding warrants for his arrest. Evans immediately took out a gun, shot Dailey in the head and fled out the restaurant's back door.
"Pat Dailey never even unholstered his gun," Gahler said. "He never had the chance."
More deputies responded to the scene immediately, chasing Evans to his car and exchanging gunfire. Logsdon was one of the first deputies to respond.
Evans was known to employees at the restaurant, Gahler said, and had warrants for his arrest in Orange County, Florida, for resisting arrest and obstructing a police officer, and another from Harford County stemming from unpaid attorney's fees.
Evans' brush with police in Maitland, Florida, was in April. Maitland Deputy Chief Bill McEachnie said an officer saw what appeared to be a suspicious car.
"There were clothes in the back seat. It was cluttered," McEachnie said Thursday. "It looked like a person was living out of the car."
Evans appeared nervous but gave the officer his name, a police report said. While the officer radioed Evans' name and vehicle tag number to a dispatcher, Evans pulled out of a parking lot with his lights off. The officer pursued him, and Evans at one point made a U-turn and started driving in the wrong direction on the road.
The officer stopped pursuing Evans when he left Maitland's city limits, in accordance with police policy, McEachnie said.
It turned out the vehicle was stolen. The officer filed a request for a warrant on charges of fleeing and eluding officers, reckless driving and resisting an officer without violence. The charge that was ultimately filed was for reckless driving, according to court records.
The sheriff said Evans shot the deputies because he didn't want to go to jail, but didn't specifically target them because they were law enforcement.
Gahler said the gun was purchased legally from an arms dealer in Pennsylvania in 1993, but that it had since gone out of business.
"Many aspects of whether he should have been in possession are still under investigation," he said.
Evans' son said Wednesday that his father was a heavy drinker with emotional problems. Jeremy Evans told WBAL-TV in Baltimore that he believes his father thought he'd spend the rest of his life behind bars and decided to get away.
Jeremy Evans also told the station David Evans shot his mother years ago. She had been to the restaurant Wednesday and seen David Evans, and believed he was in the area to hurt her. He said his mother alerted authorities to David Evans' presence, but left the restaurant before Dailey arrived.
Copyright 2016 The Associated Press