Stephon Clark's family to sue Sacramento police for 'wrongful death'
Stephon Clark's death has been at the center of controversy and protests in the last week
---
By Police1 Staff
SACRAMENTO, Calif. — The family of a man who was fatally shot by police plans to file a lawsuit for his "wrongful death."
Attorney Ben Crump told The Daily Beast that Stephon Clark's will file the lawsuit against the Sacramento PD. Crump is a civil rights attorney that has represented the families of Trayvon Martin and Michael Brown.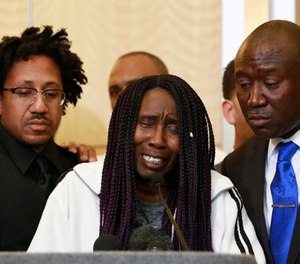 Clark's death has been at the center of controversy and protests in the last week. On March 18, police received a call about a man breaking into cars and a home.
When Clark went to his grandparents' yard, police ordered him to put his hands up before noticing what they believed to be a gun in his hand and shooting him. Officers performed CPR on Clark before he was pronounced dead.
Police later found a cellphone in Clark's hand. No gun was found. Police released body cam and helicopter footage of the shooting last week.
Crump said the family is suspicious of the PD's account of the shooting.
"They feel that, at best, police have intentionally misled them, and at worst they flat-out lied to justify this execution of Stephon Clark in his backyard," he said. "[Police] said the first day after the execution that he had a weapon, that's why they had to shoot him 20 times. Then the next day they changed it and said he had some kind of crow bar or toolbar, to justify why they had to shoot him 20 times. Then finally they came clean and said he didn't have any weapon of any sort. All he had was a cell phone."
Part of the family's suspicions stems from one officer muting body cam audio following the shooting. Crump said an officer used a profane word before muting the audio, which led the family to believe police "realized they had messed up."
Sacramento police spokesman Sgt. Vance Chandler said there are "a variety of reasons" why an officer would mute their body cam, according to the Sacramento Bee. Under department policy, officers under their own discretion can deactivate their camera for reasons including when having tactical or confidential conversations, CNN reports.
Crump said the family plans to conduct an independent autopsy and file the wrongful death suit Monday