Warrant shows deadly struggle before La. cop's death
Documents shed new light on the encounter Saturday morning that took the life of Officer Daryle Holloway
---
By Rebecca Santana
Associated Press
NEW ORLEANS — In the moments before his death, a slain New Orleans police officer struggled with the man accused of shooting him from the back seat of a police vehicle as the man shouted, "Let me go before you kill yourself!" according to court documents released Monday.
The documents shed new light on the encounter Saturday morning that took the life of Officer Daryle Holloway and sparked a 24-hour manhunt for the suspect, Travis Boys.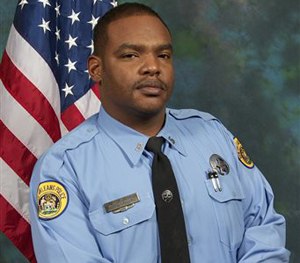 Boys is accused of shooting Holloway from the back seat of a police vehicle — after being frisked and handcuffed — and then escaping.
According to the application police made Saturday requesting an arrest warrant for Boys, he shot Holloway from the back of the police vehicle through an access window, hitting him once on the right side.
Then the two fought for the gun.
"While Officer Holloway struggled with Boys over control of the weapon, Boys yelled three times, 'Let me go before you kill yourself!" the documents said.
Boys was able to crawl from the back of the vehicle to the front through the access window and then escape the car, according to the documents.
"Holloway grew weak from his injury and could no longer hold on to Boys," officers wrote in the warrant request. The police car later crashed into a utility pole.
Holloway was wearing a body camera that authorities used to confirm what happened, police said.
Boys did not use the officer's gun, which was still in his holster, and police don't know how the suspect got hold of the weapon he used.
Police Superintendent Michael Harrison said Boys had previously been frisked, raising questions about whether he was searched thoroughly. The police chief pledged to investigate thoroughly.
Authorities recovered two weapons in the police vehicle: a .38-caliber revolver that had been used in the initial assault for which Boys had been arrested and a .40-caliber Smith & Wesson that was used to shoot the officer, police said.
Boys was first detained early Saturday after police were called to a New Orleans house over a disturbance. Boys was arrested on a charge of aggravated assault after a person at the house said he fired a shot, according to police.
The 45-year-old Holloway was working the day shift and tasked with driving Boys to jail when the shooting happened.
Authorities swept the city Saturday and Sunday looking for Boys. Rifle-toting police in bulletproof vests, some with trained dogs, searched for Boys, checking backyards and crawl spaces under houses as helicopters circled overhead.
Officers on Saturday spotted Boys in a stolen truck and gave chase. The truck crashed into a house, and Boys got out with officers in pursuit, but he eluded them again.
Then on Sunday morning, a rookie police officer and his trainer spotted Boys — still wearing his now-broken handcuffs — trying to board a city bus. He tried to escape again by getting on the bus and then off but was arrested.
Holloway died from a single gunshot wound to his chest that pierced his lungs, heart and major blood vessels, the city's coroner said.
Holloway was a 22-year veteran of the New Orleans police force, described by family and fellow officers as a dedicated officer with an infectious sense of humor.
"My family lost a loved one and the city lost a really good dude," said David Belfield III, an uncle of Holloway's. "If you were with him for 10 minutes, he'd have you laughing."
Belfield called his good-natured nephew a model police officer who treated others with patience. He said he was much-liked by his fellow officers, by those he worked with on the streets and in the tough public housing projects of eastern New Orleans.
"He was always giving you the benefit of the doubt," Belfield said. "We need more like him on the force."
He said Holloway's funeral was scheduled for Saturday.
Copyright 2015 The Associated Press