Alaska cemetery vandals strike for third time
Some of the tombstones at the site date back to the 1800s
---
By Rachel D'Oro
Associated Press
ANCHORAGE, Alaska — Vandals have struck a 200-year-old Russian Orthodox and Alaska Native cemetery for the third time in recent weeks, toppling marble headstones weighing hundreds of pounds.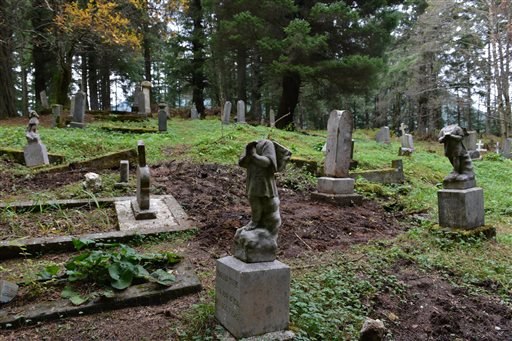 Some of the tombstones at the site in in Sitka date back to the 1800s. Between the three vandalism incidents at least 10 headstones sustained significant damage, Sitka police Lt. Lance Ewers said Tuesday. The latest vandalism occurred overnight Saturday and involved 25 tombstones.
"It's so disheartening," Ewers said. "It's so disturbing."
He was among police, firefighters, students from the Alaska State Troopers' Sitka academy and others who turned out Monday night to put the headstones upright. People also quickly responded after the first two incidents, which were reported Sept. 13 and Sept. 22.
On Monday, cleanup participants also climbed trees to install new trail cameras. Ewers said older cameras had been installed after the second incident, but they were taken down after one of the cameras malfunctioned.
Bob Sam, the cemetery's Tlingit caretaker, has tended to the 7-acre forested site for decades — three decades as an adult. He also spent about a decade as a child going there with his grandmother. At the time, she was unhappy with the condition of the cemetery, and he promised her he would take care of the site.
Sam, who also was among those putting things back in place Monday, said the community responding to help clean has been a positive. But he doesn't understand the mindset of those responsible, how they could keep vandalizing the site repeatedly.
"I think there's a lot of anger," Sam said. "It's a cemetery, and it's violence toward the helpless."
Police are offering a $200 reward for information leading to the arrest and conviction of the person or persons responsible, according to Ewers. The amount of the award could be increased later, he said.
Copyright 2015 The Associated Press