How satisfied are cops with their careers?
Results from Police1's state of the industry survey show most officers are drawn to policing for altruistic reasons, with many having some of their motives satisfied
---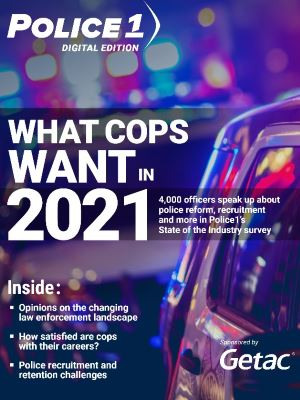 While it's no secret that law enforcement is a trying profession these days, quantifying the level of difficulty is harder to do. Police1's State of the Industry survey of law enforcement officers sheds some light on the challenges of the job, what is driving cops and where officers are finding the most frustration.
Survey demographics
There were more than 4,300 responses, 87% of which were current, actively serving law enforcement officers. The remainder were retired or non-sworn police employees. More than 60% of respondents had between 10 and 30 years of experience, with another 18% working in law enforcement for over 30 years. Thirty-nine percent of the officers polled worked in urban agencies, 38% in suburban departments, and 22% came from rural agencies (totals may not sum to 100% due to rounding). A third of respondents worked in patrol, the most common assignment. The remainder worked in administration, investigations, training and other roles.
Pros and cons of being a cop
Most officers were drawn to police work for altruistic reasons. Seventy-five percent said they chose law enforcement to serve their communities, with challenges (48%) and variety (52%) of the job cited as the most common reasons. Other reasons included family tradition (14%) and job security (28%) as motives. With this and some other questions, respondents provided up to three responses, so totals exceed 100%.
Most officers have at least some of their motives satisfied. Fifty-five percent found community service their most satisfying reward, with crimefighting (46%) and the relationships they enjoyed with other cops (31%) the other most common responses. Twenty-three percent were satisfied with their salary and benefits, and 24% enjoyed the interaction they had with the public. Officers were more outspoken in citing the downsides of law enforcement. Over 40% cited attention from politicians (43%), being in the media spotlight (45%), poor agency leadership (44%) and presumption that the police are wrong (66%) as the least satisfying aspects of the job. Although cops have been known to complain about paperwork and court attendance, less than 5% cited report writing as a drawback, with presenting evidence (1.6%) and testifying (2%) getting even fewer votes.
Job satisfaction
Most cops seem reasonably satisfied with their jobs. Over half (56%) said they were somewhat or very satisfied with police work, with 26% indicating they were somewhat or very dissatisfied. The remaining 18% were neutral or unsure.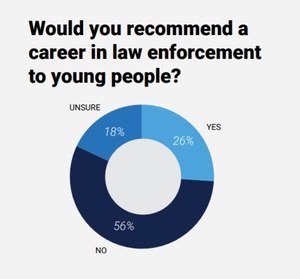 Firefighters and paramedics may get to advertise their career choice, but cops are more reticent to let others know what they do for a living. Asked how they feel about displaying car decals, t-shirts, and other "I'm a cop!" paraphernalia, 70% said that they disagreed or strongly disagreed with the practice of publicizing their choice of career. Similarly, 75% said that when they were off duty, they didn't feel it was important to let people know they were cops.
The current political climate regarding law enforcement has not completely soured cops' perspectives of their jobs, but there is significant dissatisfaction.
Asked about their sense of pride and commitment to serving their communities, 28% of officers surveyed neither agreed nor disagreed that their attitudes were affected.
The distribution of those who agreed their pride and commitment was reduced was almost the same as those who disagreed. While it's gratifying that most cops are resisting or are neutral about the notion that public opinion is negatively affecting them, 44% feel their pride and commitment have eroded in light of public opinion. Over half (56%) would not recommend that young people pursue a law enforcement career. Forty-four percent are not optimistic about the future of law enforcement, 36% are unsure and only 20% see a brighter future ahead.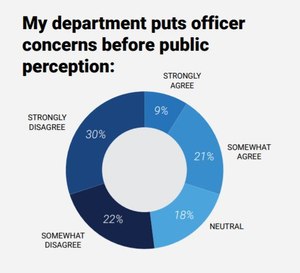 Asked to rank the most important tasks for law enforcement, community policing (64%), response to emergencies (64%), patrol (42%) and investigation of violent crimes (40%) scored highest. Other activities such as accident investigation, drunk driving enforcement, mental health intervention and narcotics enforcement were selected far less often.
When cops are asked about the way they feel toward agency leadership, the picture is not one of fraternity and harmony. They said that patrol officers are not consulted on policy changes (59%), their department emphasizes public perception over the concerns of officers (52%) and local government officials do not understand what the cops need (61%). Even so, officers do not have an entirely negative perception of the way their departments are run. Sixty-one percent were satisfied with the training they receive, 74% said they were adequately equipped with safety and personal protective gear, and 71% said the citizens they serve support them in their mission.
Conventional wisdom might predict that cops are mostly conservative, law-and-order types who favor stiff punishments for offenders and free rein on tactics and use of force options. This wasn't entirely borne out by the survey's results. Fifty-eight percent supported alternatives to jail for minor and first-time offenders and 49% were for a ban on the use of a respiratory chokehold. Support for other criminal justice reforms such as the elimination of cash bail (67% opposed) and ending qualified immunity protection of police (91% opposed) was less equivocal. Predictably, there was overwhelming support for mandatory prosecution for assaults on officers (93%) and increasing funding for police training (94%); 84% wanted body-worn cameras for all officers.
While the police want to keep their use of force options open, they also want to expand their skillsets for less conventional techniques. Eighty-seven percent want to improve their communication skills, 72% want more training for crisis intervention, and 75% want de-escalation training. Seventy-nine percent want more and better weaponless defense and physical control skills.
Behind the badge
The survey provided some insight into the personal lives of the country's police. Seventy-three percent belong to some type of union or police fraternal organization, 44% are members of a faith-based organization, and 38% have membership in a professional association like ILEETA or the NTOA. Fifteen percent belong to a service organization, such as Rotary or Lions Club. In the past year, 13% have attended a political rally, 23% donated to a political candidate and 67% voted in an election.
Political preference among those responding to the survey was not much of a surprise: 64% said that the Republican Party best reflected their political interests, 6% were Libertarians and only 5% were Democrats. Just over a quarter checked "other" or preferred not to answer.
Of those surveyed, 78% identified as white or Caucasian, 7% were Hispanic, and 12.8% were Black; 86% were males. On the whole, the law enforcement profession, according to a 2018 U.S. Census Bureau estimate, was reported to be 65.5% identified as white or Caucasian and 12.8% were Black; 86% were males.

Besides the categorical responses, there were several opportunities for those surveyed to enter free-form text. Just the narrative answers to the question on job satisfaction ran for 160 pages, and the tone differed widely. Some answers were from cops who loved the job, and others reflected a darker point of view. The variation of these answers illustrates what many outsiders forget about cops: every one of them is an individual with their own ideas, biases and affinities. The police microcosm mirrors the society it serves, as it should. No one can truly speak for the whole.
In their own words
Here's what survey respondents had to say about what they found about working in law enforcement.
What do you find most satisfying about law enforcement?
Our community generally supports us, and I feel we play a very important role in protecting our community.
I work for an outstanding agency with a chief who listens to new ideas and excepts input with our shared leadership group.
I continue to take pride in serving those in need.
I have the most joy in knowing that I've made an impact in someone's life in a
positive way when the criminal is held accountable for the crime that they committed against an innocent person.
Despite the negative media attention, I enjoy interacting with my community. My interactions, good and bad, do not reflect the representation by the media
I derive my satisfaction from knowing I'm a professional, make a difference in the quality of life of the citizens I serve, advance the police-community relationship with most contacts and I get to put evil people in jail.
What do you find least satisfying about law enforcement?
Public's lack of knowledge about police work, the law and existing controls on enforcement activities.
Assumptions made about the profession as a whole based on a few incidents.
Blaming law enforcement for problems we didn't cause and cannot solve (e.g., mental health).
The uncertainty of being supported by department and city officials if you have to use force.
Policing in a country that is governed by social media and the court of public opinion.
Politicians using police officers as their political pawns to pander to citizens.
Being called racist just for being the police.
This feature is part of Police1's Digital Edition, What cops want in 2021, which provides a summary and analysis of the results of Police1's State of the Industry survey of 4,000 officers about police reform, recruitment and more. Download the complete report here.