L.A. Metro looks to create its own police force
Metro had its own police force until 25 years ago, when the mayor at the time pushed to absorb the 383 officers into the LAPD and Sheriff's Department
---
By Rachel Uranga
Los Angeles Times
LOS ANGELES — Amid a dramatic rise in drug overdoses and several stabbings, Los Angeles County transit officials moved forward with creating a new police force in hopes of putting riders at ease.
The in-house transit force would save more than $38 million over contracting with the Los Angeles Police Department, the Long Beach Police Department and the Los Angeles County Sheriff's Department, which policed the trains and buses at a cost of $172.9 million this year, according to a study commissioned by the Los Angeles County Metropolitan Transportation Authority board.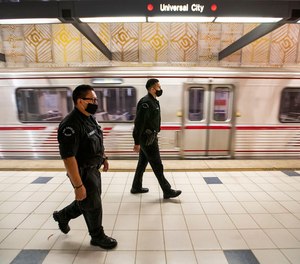 On Thursday, the board unanimously voted to develop a blueprint for the new police agency, a move that could end the longtime contracts with local law enforcement.
"This will ultimately lead to a safer and more secure transit experience for riders and employees," said Gina Osborn, Metro's chief safety officer.
Janice Hahn, a Metro board member and L.A. County supervisor, abstained from the vote, expressing concern that the agency was moving too fast without understanding the full cost of building a new department.
The board is expected to decide early next year on whether to green-light the blueprint.
"This is such a huge shift in what, how we've been talking about this," Hahn said.
Hahn, who last month publicly criticized the police response to a brutal attack on a 53-year-old woman on the A Line, said the plan likely blindsided the three law enforcement agencies. And she wanted some time to understand the implications.
Critics say that law enforcement hasn't been visible enough on a system where drug use has become blatant. With three outside agencies policing the trains, Metro officials can't dictate deployment, and each agency has its own culture and methods.
Safety is a big issue for female riders, who in surveys cite it as their top concern.
In March, the board approved extending the policing contract with the agencies for another year while exploring what it would take to develop its own force.
After the board-commissioned study by Justice Research Consultants found that a new agency was feasible and would save money, the board voted on Thursday to direct its CEO to develop the blueprint, also known as an implementation plan.
Metro officials have been sensitive to concern about over-policing and have promoted safety campaigns as part of a layered approach that includes social service responses.
They have poured millions of dollars into programs that include stepped-up cleaning of trains and train stations, as well as help with mental health and housing for homeless people. The agency also added hundreds of customer service ambassadors in a bid to lure more riders.
During the pandemic, ridership plummeted as violence rose. The agency is slowly recovering, with weekday ridership on rail at 64% of pre-pandemic levels in May, as crime appears to be leveling off. Overall, including trains and buses, weekday ridership is at 74% of pre-pandemic levels.
"It's a real opportunity to take a very, very bold step," said Los Angeles Mayor and incoming Metro Chair Karen Bass.
But she added that the proposal was far from a done deal and acknowledged that it could have a ripple effect on the LAPD, which pays its officers overtime to work on the trains and buses.
"We have to have community input. We have to talk about exactly how we go about this," she said. "So even though this s moving forward toward implementation, it does still seem like it's going to be quite a long process, not something that is going to happen overnight."
Social justice advocates oppose the move. They have been calling for eliminating police except for emergencies, instead putting the money toward social services and more frequent trains and buses. They argue that officers ticket Black riders at higher rates and can make people aboard feel uncomfortable.
A new policing agency would likely take three to five years to fully staff, at a time when law enforcement agencies nationwide are struggling to recruit officers, according to the feasibility study.
Metro would also take on new liabilities like lawsuits stemming from use of force, which could bring an additional $2.9 million a year in costs.
The study estimated that Metro would need a 464-person force including support staff and 381 sworn officers, who would be more visible because they would patrol solo, as opposed to the pairing that some agencies do. The new agency would cost about $134.5 million a year, according to the study.
Metro had its own police force until 25 years ago, when then-Mayor Richard Riordan pushed to absorb the 383 officers into the LAPD and Sheriff's Department.
Capt. Shawn R. Kehoe, head of the Sheriff's Transit Services Bureau, said his department is committed to Metro and will help with the process. But he noted that the data in the report was not vetted with his department.
The staffing levels laid out in the report would be 40% short of needs, he said, taking into consideration vacations, sick time and other realities.
Deputy Chief Donald Graham, who heads the LAPD's Transit Services Bureau, cautioned that the discussion was preliminary.
"This is the first in many steps before they actually get to a decision as to whether or not this is in the best interest of the MTA, whether it's in the best interest of the community, whether it will actually provide the budget savings for the same level or improve the service," he said.
___
©2023 Los Angeles Times.
Visit at latimes.com.
Distributed by Tribune Content Agency, LLC.
McClatchy-Tribune News Service