On Thanksgiving, citizens saying "thank you" to cops
It's commonly accepted that police work is a "thankless job," but every so often someone surprises officers with a kind gesture
---
I was in a little mom-and-pop restaurant and observed two uniformed officers arriving to eat lunch as I was just about done with mine. As I was paying my tab at the register I said, "I want to pay for their lunch," motioning my head toward the two officers.
"Somebody else already did that," the cashier replied. I was stuck between being disappointed and being elated. Somebody beat me to it – a citizen randomly and anonymously saying "thank you" to the police.
It's commonly accepted that police work is a "thankless job," but every so often someone surprises officers with a kind gesture.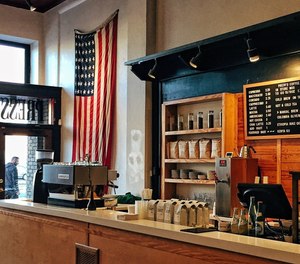 On this day of giving thanks, I want to highlight citizens saying "thank you" to American law enforcers. Here are some stories gathered from Police1 Members. Add your stories in the comments below.
The Waffle House
I ran into a situation that really caught me off guard. We had a particularly busy shift that night, so as I finished my tour and climbed into my personal car I realized I hadn't had a chance to eat. As I drove home I pulled into a Waffle House and ran inside to order a to-go sandwich and a soda.
As I waited, I talked with another officer who happened to be in there at the time, and as is usual with Waffle House my order was ready for me in short order. I approached the counter and pulled out my money, and the clerk behind the counter informed me that my order had already been paid for.
I was surprised at this because it was just me, another police officer and the staff in there at the time. I asked the clerk who had paid for my order, and she told me that once a week a citizen – who chooses to remain anonymous – comes in and leaves around $100 to be given out to public servicemen and women of the DeKalb (Ga.) County Police and Fire Department if they come in there to eat."
— Timothy Paske, Police1 Member
A Special Christmas Lunch
One Christmas a few years ago in our city of Smackover, Arkansas, myself and some of my fellow officers were invited to a special Christmas lunch at a local business. The owner and employees were so appreciative of how safe they felt and the safety of our citizens.
We enjoyed it very much. They were well aware that it was our duty to protect them and our city, but they insisted that we join them for that special lunch.
— Rickey Brown, Police1 Member
The Truck Stop Judge
There were four of us eating at the truck stop diner. When we got up to pay, we were told, "That man paid for all of you."
I looked out the window and saw the county judge getting in his car. That impressed me.
— Don Massengill, Police1 Member 
The Elderly Man and the Young Lady
One day I was taking my meal break on a shift that was not very family-friendly. I've got a teenage daughter, a son with special needs and a newborn daughter at home. I was missing the family time when an elderly gentleman walked up to where I was seated. I braced myself for a wisecrack or a question on legal advice I'd be unable to provide.
He said, "God bless you, and thank you for what you do."
I told the gentleman how much I appreciated hearing that because we do not hear it enough, and that it was perfect timing. I really needed to hear it on this particular day.
The man walked off, and after a few minutes passed I got up to leave. A young lady approached me and stated, "I just wanted to say thanks for what you do for us and pray that God keeps you safe."
I told her "thank you" with a big smile on my face. With my batteries recharged, I was ready to serve the citizens of my county. Sometimes this is all the thanks we need!
— Paul Masselli, Police1 Member
Stuck in the Mud
I am lucky enough to be assigned to my department's Marine Unit and patrol the 27 miles of my city's coastline. One afternoon, I got a phone call from Ritchie, the manager at one of the local marinas. He told me a customer's sailboat had gone aground right off the dock and that Tony, one of the marina employees, was going out to assist, and if I was in the area could I help him out.
My shift had ended and I was in my car on the way home, but Ritchie and Tony have always been good to me, so I turned around and got my patrol boat underway.
It was about an hour before low tide, and the big 36-foot sailboat was hard aground to the point that we couldn't pull her off no matter what we tried. We helped the Captain set his anchor and I headed home after a long day.
The next day, my boss forwarded me this email:
Dear Lieutenant, 
My sailboat went aground yesterday afternoon just off my slip at the Marina. Officer Mike Foley responded to the call for assistance. I wanted to let you know that Officer Foley did a terrific job trying to help get the boat out of the mud as well as calming my crew. In the end, I had to wait for the tide and successfully refloated and made it into my slip. Mike was a real gentleman and should be commended. He is a credit to your Unit. 
Sincerely,
Mark
I was really touched that Mark, who I later learned is a prominent doctor, had taken the time to find my supervisor's email address and write that note.
— Mike Foley, Police1 Member
Pizza Paid For
Another trooper and I were eating at a pizza place. A guy in a business suit came in after us, sat by himself at the table next to us, and never looked at us or talked to us. He finished quickly and left. Before we got up to go pay for our meals, the waitress came and took our bill – told us that guy paid for us. It was very nice of him, but I wish we could have thanked him somehow.
— Garrett Bondhus, Police1 Member
Hat's Off to You
I was working a traffic accident on an overpass on a very windy day in south Texas. About a week before, I'd just bought a new uniform baseball cap (the money comes out of my own pocket). As I was working this accident the wind blew my cap off, and I saw it fly down to the underpass below, which is a heavily traveled road. I gave it up for lost, knowing that it would be either run over or taken by someone and I would never see it again.
I finished with the accident scene and started to return to the station when dispatch advised that someone under the overpass had seen my cap fly off and they recovered it and brought it to the station. I was pleasantly surprised. Of course, en route to the station call after call popped up and I wasn't able to make it back in a timely manner.
By the time I got back to retrieve my cap and thank the citizen, they were gone. I never got a name or anything so I never knew who to show my gratitude to. The cap was rather expensive on a policeman's salary. That's one story that stuck out. I have a very few more.
— Rogerio Garcia, Police1 Member
Life Is Like a Box of Tacos
After I cleared a traffic stop a random female gave me a box of tacos that she just bought from Taco Bell. The female said, "This may sound cheesy, but you guys are unappreciated" and gave me the box of tacos.
It caught me off guard that this female went out of her way and spent her hard-earned cash to just say thanks. I'm very cautious about eating food from random people, but I had a good feeling about this person.
Faith in humanity restored that night.
— Jason Pavlige, Police1 Member
This article, originally published 11/28/2013, has been updated.