Seattle police buy 'porn-sniffing' K-9 in Subway child-porn case
When FBI raided the home of Subway spokesperson Jared Fogle, they entrusted a K-9 trained to sniff out electronics
---
By Sami Edge
The Seattle Times
SEATTLE — When the FBI raided the Indiana home of former Subway pitchman Jared Fogle in early July, they enlisted the help of a 2-year-old black Labrador named Bear specially trained to sniff out electronics.
Next week, Bear will be reporting for duty with the Seattle Police Department (SPD).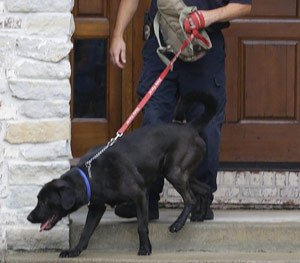 Dennis Clark, owner of a company called Tactical Detection K-9 that trained and sold Bear to Seattle police, says the dog will work with SPD child-pornography detectives, sniffing out the same kinds of criminals he's helped put behind bars with his trainer in Indiana.
Bear's talents are unique. He's trained to sniff out a chemical compound emitted from memory-storage devices like memory sticks and SD cards, and point them out to his handlers. In Fogle's house, he helped find evidence related to the child-pornography charges.
Fogle, the longtime Subway pitchman, agreed last week to plead guilty to allegations that he paid for sex acts with minors and received child pornography in a case that could send him to prison for more than a decade. Subway has since ended its relationship with Fogle.
Todd Jordan, Bear's trainer at Tactical Detection K-9 and a fire department investigator in Anderson, Ind., has been training search animals for 18 years. Bear is the first electronics dog he has trained and only one of three or four he knows of in the nation, he says.
The idea to train an electronics dog came about last year, when Jordan and some of his friends who investigate Internet crimes against children mentioned how easy it is to overlook a small hard drive, or SD card that might hold evidence.
Jordan thought a search dog might help.
"They said 'You can train a dog to do that?' and I said, 'I think I can, let me try,' " Jordan said Monday.
Working with a Lab, Tactical Detection K-9 isolated a chemical byproduct emitted specifically by memory-storage devices like SIM cards, memory sticks and SD cards. Then they set Bear to work sniffing out the chemical byproduct, which he declined to name.
On his first test run only two months into training, Bear cased a room that investigators had already thoroughly searched and found an SD card that had been overlooked.
"What investigators do in hours searching a room it takes the dog 10 minutes to do," Jordan said.
The technique is simple: Bear and his trainer walk carefully through a room. When Bear finds something, he sits down. The trainer says "Show me," and Bear will point with his nose to the exact place where he's sensing the chemical byproduct emitted by a memory device. Then investigators conduct a thorough search.
"The whole concept is to save them some time and to get the bad guys off the street who are doing this," Jordan said. "Each micro-SD card holds thousands and thousands of pictures, and each picture is a victim. I guess that's where my passion is."
According to media accounts, Bear took part in a search of Fogle's Zionsville, Ind., home in July and uncovered a hidden flash drive that was key to the investigation.
Bear and Jordan worked pro-bono on five or six different investigative cases with the FBI before Bear was listed for sale on the Tactical Detection K-9 website, Clark says. After the Jared Fogle case, demand for Bear exploded, and the SPD was the first to extend an offer for the dog, Clark says.
Seattle police have been reluctant to say much about their newest K-9, saying they will introduce him to the media next week. It wasn't immediately known what Seattle police paid for Bear, but trained dogs listed for sale on Tactical Detection K-9's website go from $3,500 to $7,500.
Jordan has been working with Bear and his new Seattle police trainer in Indian­apolis for the past few weeks. As the search dog gets ready for his new life in Seattle, Jordan says it's hard to see him go.
"I'm almost sorry I sold him," Jordan said. "But what I like about it is it's like a match made in heaven."
Copyright 2015 The Seattle Times
McClatchy-Tribune News Service