Too far in to quit, not far enough to retire
A recent survey finds officers with 5-10 years of service may be at great risk for adverse mental health and diminished work productivity
---
By Dr. Michelle Lilly and Sergeant Shawn Curry
In August 2020, we surveyed 1,355 active duty law enforcement officers from across the country to assess for current stress and mental health functioning during the COVID-19 pandemic and ongoing civil unrest.
The results reveal the extent to which the law enforcement community is suffering in a year that began with a global pandemic and is now seeing significant social upheaval. In just a few short months, officers went from being lauded as essential workers to working amid a social discourse that paints all officers in a negative light.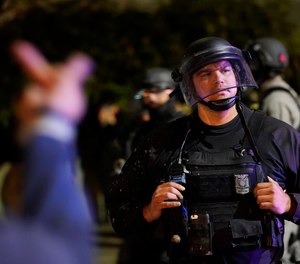 Results of the survey are summarized in a Police1 article, and a white paper with the complete results is available in full below.
One important pattern that emerged in the data is the disproportionate level of suffering among a subgroup of officers who are 5 to 10 years into the occupation; namely, officers who are too far into the job to quit and likely more than a decade away from retirement.
Officers 5 to 10 Years into the Job
Some troubling patterns emerged for officers who identified as being 5 to 10 years into their career in law enforcement.
This group comprised approximately 20% of the sample. Statistical analysis showed that this group was at significantly higher risk for PTSD and depression than officers who were less than five years or more than 10 years into their career. In fact, 54% of the officers in the 5- to 10-year range screened positive for PTSD, compared to 47% in the full sample. Further, 44% of this group were in the moderate to very severe range for depressive symptoms compared to 29% in officers with less than 5 years and 35% in officers with over 10 years on the job.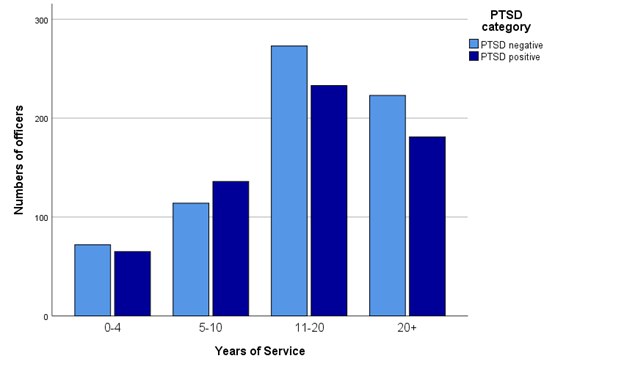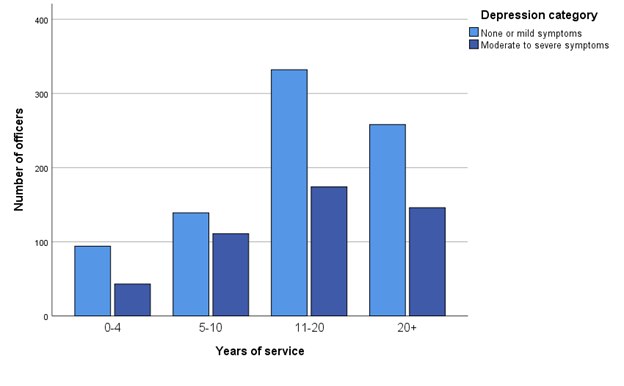 Perhaps most concerning is that officers in the 5- to 10-year range reported feeling trapped or hopeless about their job more frequently when compared to those in the zero to 4-year range.
In addition, a disproportionate number of officers with 5 to 10 years of experience reported that recent events have negatively impacted their productivity at work. In fact, 73% of officers in the group reported that recent events have impacted their work productivity at least once a week up to daily over the past month. This is compared to 63% in those with less than 5 years of experience, and 62% in those with more than 10 years of experience.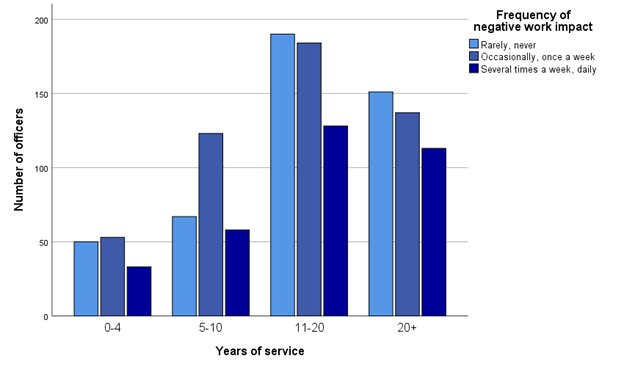 Factors That May Account for Increased Risk
Why might officers in the 5- to 10-year range of service be at greatest risk for adverse mental health and diminished work productivity?
Though we did not assess whether officers completed their degree in law enforcement, it is likely that many officers in our sample majored in law enforcement. After 5 to 10 years on the job, officers may feel as though their job prospects are limited should they elect to change careers. Many may feel "pot committed," as they may experience personal or financial obligation to remain in an occupation that is currently greatly devalued, the landscape of which may feel quite bleak amid conversation of police reform and defunding.
In addition, the majority of officers in this group are likely in their late 20s to mid-30s (note here: we did not ask participants' age). This is often a time of important life transitions, including getting married and having children. Officers in this group may be the primary breadwinner in a home with small or school-aged children. In addition to the financial repercussions of leaving the occupation, having small children at home is a significant stressor on a marriage. This may be particularly true when there is an ongoing risk of work-related injury/threat, and officers are mandated to work overtime as a result of work-related injuries and COVID-related concerns. This is coupled with the current mass exodus due to retirement that is being seen across the country in departments.
Working in a 24/7 industry that is typically marked by long shifts, overnight work and/or shift work can place a significant amount of stress on marriages and familial relationships, even in the best of times. When the events of 2020 pile on extra stress and burden, these relationships can be maximally strained, particularly if there are young children at home with limited childcare or remote learning.
The negative social discourse related to law enforcement, as well as stresses inside and outside of the home, can have a direct impact on work productivity. After all, when individuals experience symptoms of PTSD and/or depression they are often psychologically and physically depleted, which can affect motivation and make it difficult to fully engage in work.
However, what we may also be witnessing in regard to reduced work productivity among officers in the 5- to 10-year service range is fear.
Officers in this group may be especially hesitant to engage in work, fearing that if they make a mistake their actions will be questioned or politicized and that the occupational and/or financial consequences will be severe for them and their family. This may also be implicated in the disproportionate number of individuals in this group who screened positive for PTSD, as the distress and fear associated with working in the job can manifest as hypervigilance and other symptoms of PTSD (i.e., intrusive thoughts, nightmares, trouble concentrating, sleeping, etc.).
A final consideration for the group of officers who are 5 to 10 years into the job is a historical perspective on the changing cultural narrative of police officers.
The death of Michael Brown in Ferguson, Missouri, and subsequent rioting and civil unrest occurred in 2014. This means that the majority of the group was in their early career during the Ferguson case, or were preparing for a future in law enforcement.
These officers persisted in the occupation despite the events surrounding Ferguson and the negative discourse regarding law enforcement during that period of time. Officers in this study made it through that difficult period and weathered the storm only to now see a large resurgence in anti-cop sentiment. They may be wondering whether they can or want to weather the storm again, and experiencing regret for not exiting the profession when they were less personally or financially invested.
How Do We Protect Officers?
It is important to learn the warning signs of distress among peers through training. It is also important to remember that stress can rise dramatically during major life transitions (e.g., birth of a child, child illness, marriage, or divorce), particularly when they are couched within a year marked by ongoing crisis and chaos.
If a peer is going through a major life transition, it is important to check in with them not just once, but multiple times, as the nature of the stressor may change over time. For instance, the stress associated with a divorce may change as the individual moves from separation to filing to determining custody arrangements. As such, accepting the age-old "I'm fine" response from a peer who is under significant pressure, only to never ask again, may result in a missed opportunity for that individual to receive support.
It is also important to recognize that the needs for training and intervention may vary as a function of years of service. The target for mental health training may be on the early career officers and those officers who are being promoted or nearing retirement. This may overlook the group of officers who are struggling the most and may need additional coping resources, access to intervention and training on managing mental health.
Based on the results of this study showing that this group disproportionately reported feeling trapped or hopeless about their job is a cause for significant concern, as hopelessness is a leading predictor of suicide among police officers. [1] If you or someone you know is struggling, please reach out for help.
Reference
Violanti, J. M., Andrew, M. E., Mnatsakanova, A., Hartley, T. A., Fekedulegn, D., & Burchfiel, C. M. (2016). Correlates of hopelessness in the high suicide risk police occupation. Police Practice and Research, 17, 408-419.
---
About the authors
Dr. Michelle Lilly is co-director of the Training and Research Institute for Public Safety (TRIPS) and an associate professor of clinical psychology at Northern Illinois University. Contact her at mlilly1@niu.edu.
Sergeant Shawn Curry is co-director of the Training and Research Institute for Public Safety (TRIPS) and an active-duty officer with the Peoria Police Department in Peoria, Illinois. Contact him at spc1173@gmail.com.