Fatal OIS of armed man sparks controversy; video released
Family of the deceased want charges against both the involved officer and against the 911 caller, who claimed a domestic dispute was going on. The family also wants the dispatcher fired
---
By Suzie Ziegler 
PHOENIX — In a critical incident briefing Wednesday, police released body camera footage and 911 calls related to an officer-involved shooting that killed a man in May. 
The incident happened as officers were responding to a report of a domestic dispute the night of May 21 after a neighbor called 911 twice, according to FOX10. Family of the deceased, identified as 40-year-old Ryan Whitaker, want to bring charges against both the involved officer and against the complainant who claimed a domestic dispute was going on when there was none, the family said. The family also wants the dispatcher fired for escalating the call. A protest over the shooting was held outside police HQ on July 7th.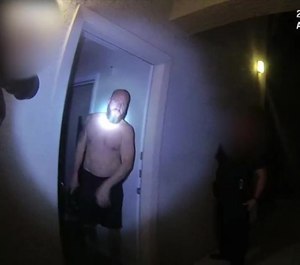 In 911 audio records released by Phoenix police, the reporting party first said the dispute was verbal. But on the second 911 call about 30 minutes later the man said it "could be physical." That prompted the in-person police response, officials said.  
"I can tell they're just at each other's throats down there," said the man on the first 911 call. 
On the second 911 call, the dispatcher asked, "Does it sound like it's escalated to any physical, or still just sounds verbal?" 
"Oh...it could be physical, I could say, yeah, if that makes anybody hurry up on -- get over here any faster," the man on the second 911 call replied. "I hear slamming of doors, and -- I don't know, somebody could be gettin' thrown into a door for all I know, but I hear all kinds of banging." 
Police officials say Whitaker stepped towards one of the officers with his gun, and the second officer fired because he feared for the life of the first officer, according to the briefing. 
Whitaker's girlfriend later told responding officers there wasn't any domestic violence occurring, according to FOX10. She said any overheard screaming could have come from a videogame she and Whitaker were playing.