Video: Man ambushes, rams Fla. deputies with car, pinning them to patrol vehicle
"Because of this man's deliberate and intentional actions, [the deputies'] lives and their family's lives are changed forever," Sheriff Chad Chronister said
---
By Joanna Putman
Police1
BRANDON, Fla. — The Hillsborough County Sheriff's Office has released body and surveillance camera footage of a man intentionally hitting two deputies with a car.
According to a Tampa Bay Times report, the incident began when the mother of Ralph Bouzy, 28, called the police saying that her son was experiencing a mental health crisis.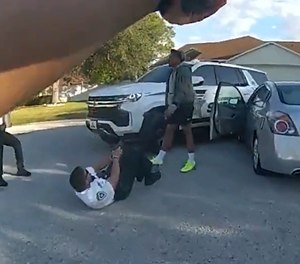 Deputies arrived at the scene to find Bouzy sitting in his car in the driveway, unwilling to roll the window down or speak with the deputies, according to the report. Eventually, Bouzy left the scene in his car.
Surveillance video from neighboring homes released in a post on X shows the vehicle reversing out of the driveway. He quickly drove around the block and returned to the same street, where he accelerated toward the sheriff's office vehicles.
Bouzy then drove straight at the two deputies who tried initially to speak with him.
Body camera footage from one deputy shows him diving and falling to the left side of the vehicle before grabbing his leg in pain. Bouzy can be seen in another officer's body camera footage getting out of the car and walking toward officers, who have guns drawn.
Undeterred by the officers' commands to get on the ground and their guns trained on him, Bouzy continued walking toward the officers until he was stunned with a TASER and arrested.
"Corporal Brito and Deputy Santos came to work today committed to making a difference in their community," added Sheriff Chad Chronister in the post. "Because of this man's deliberate and intentional actions, their lives, and their family's lives are changed forever."
The post also states that the two are undergoing surgery at Tampa General Hospital for critical injuries.
𝐖𝐀𝐑𝐍𝐈𝐍𝐆: 𝐆𝐑𝐀𝐏𝐇𝐈𝐂 𝐕𝐈𝐃𝐄𝐎#teamHCSO is releasing surveillance and body camera footage from today's ambush of two deputies in Brandon. Both deputies are currently at Tampa General Hospital undergoing surgery for critical injuries.

"Corporal Brito and Deputy… pic.twitter.com/kmcgOA0bu6

— HCSO (@HCSOSheriff) November 9, 2023